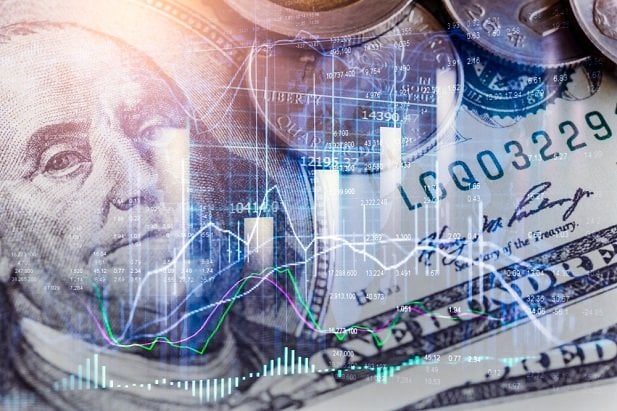 A new study from the Austin, Texas-based financial services company Kasasa said in-store grocery purchases, takeout and delivery, and gasoline purchases were most common on consumers' credit and debit card accounts during one month of the coronavirus pandemic.
The April 2020 study was conducted online by The Harris Poll on behalf of Kasasa, which received responses from 1,038 Americans aged 18 and older.
The study said credit card usage by consumers over the designated time period was dominated by in-store grocery purchases among 51% of consumers, followed by gas with 45% and necessities purchased online with 33%. Debit card records showed a similar trend, with 44% of consumers using those cards at the grocery store, followed by gas with 32%. The third top spending area for debit card use was take-out delivery by 23% of consumers.
"Trends in consumer spending and saving have seen a significant shift since the start of the pandemic, and now that the U.S. has officially entered a recession, habits will continue to change drastically," Kasasa CEO Gabe Krajicek said in a statement. "There has been a monumental shift in how individuals are managing their personal finances, and it's important for community banks and credit unions to be aware of. By understanding the current behaviors, local institutions can better support their account holders and offer guidance toward better financial decisions. This will be critical as the economy recovers."
Kasasa also pointed to a report from the Bureau of Economic Analysis (BEA), a division of the U.S. Department of Commerce, that said spending in the first quarter of 2020 was down 6.8% from the fourth quarter of 2019, which the agency attributes to state governments ordering nonessential businesses to close.
The BEA added that spending on "durable goods," like cars, fell 13.2%, and spending on services fell 9.7%, while perishable goods, like groceries, rose 7.7%, according to Kasasa.
"These findings are consistent with Kasasa's recent consumer study," Kasasa said in its release.
Kasasa said its own research also showed that 27% of consumers said they would put their government-issued stimulus checks into savings accounts. Consumers likely either believe they are not in need of the money now or plan to use it later if necessary.
"Moreover, the BEA reported that the savings rate in May saw a sharp increase up to 13.1% from 8% in February – the highest rate in 39 years," Kasasa said.