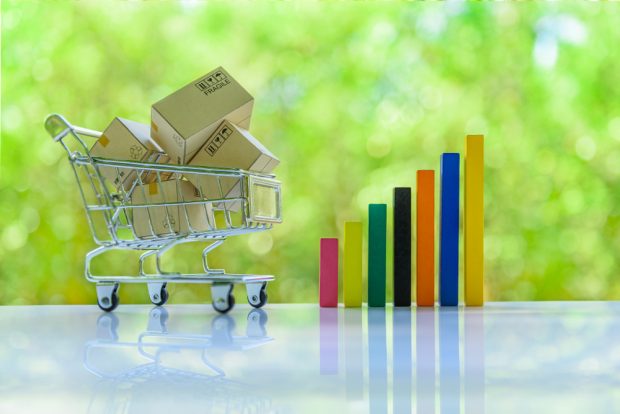 While the coronavirus is undoubtedly putting strain on certain sectors of the economy, overall spending is now on the rise as states begin reopening, largely driven by online purchases of consumer goods.
The St. Petersburg, Fla.-based CUSO, PSCU compared year-over-year performance data trends from its members for the third week of May, and found that overall credit card spend this year was down 12.5% compared to the same week last year. In contrast, overall debit card spend was up 11.7%—the sixth consecutive week of year-over-year growth since turning negative on March 29—and the average debit card purchase amount also continues to rise, up 17.2% for the week year-over-year.
This is primarily being driven by larger transactions in segments such as grocery. The volume of overall debit transactions also improved, ending the week down 4.7% year-over-year compared to being down 6.6% in the prior week.
Grocery stores and supermarkets continue to show good year-over-year spending behaviors, PSCU noted, reflecting an increased rate of 14.8% over the comparable 2019 week for credit and 16.4% for debit. Debit card spend remains elevated above typical growth levels, PSCU stated, but not as high as increases that were realized during the peak weeks of COVID-19 stockpiling in March. These elevated rates helped offset the negatively impacted restaurant/dining sector, in which credit spend was down by 45.5% and debit was down by 18.8%.
Driven by book sales, home goods and automotive products, spending in consumer goods has also seen notably high year-over-year growth, with an 37.4% increase on debit card spend and a 10.9% increase on credit card spend.
"Our latest data shows continued progress for both debit and credit. While key sectors such as travel and entertainment remain muted, others including gas and dining are inching upward," said Glynn Frechette, senior vice president of Advisors Plus at PSCU. "We have now seen six straight weeks of improving results for credit, while debit has been at or above historic growth levels over that same period. These trends are encouraging as the rebound continues."
Unsurprisingly, card-not-present (CNP) transactions are dominating the market compared to last year. Credit CNP transactions accounted for 48.2% of overall credit transactions and 56.3% of the total spend, up significantly from 31.3% and 43.8%, respectively, a year ago. Similarly, debit CNP transactions accounted for 31.9% of overall debit transactions and 43.1% of the total spend, up significantly from 19.9% and 32.1%, respectively, for the same week last year.
Amazon purchases account for a significant number of CNP transactions in recent weeks, with Amazon credit purchases up 59% and Amazon debit purchases up 120% year-over-year.