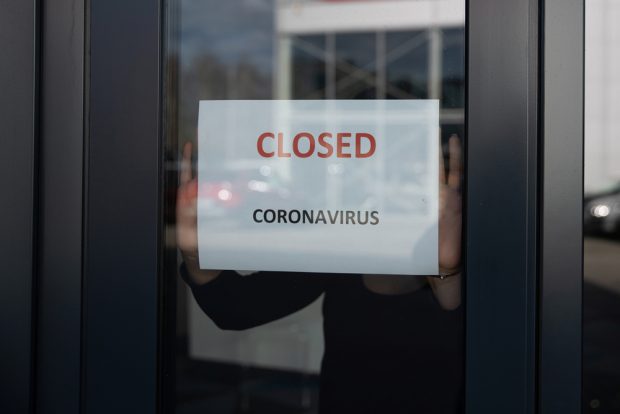 Most of the nation's 50 largest credit unions by assets in every state and the District of Columbia are serving millions of members through drive-thru services, appointment-only branch visits, phone and digital banking to help stem the spread of the COVID-19 virus.
Only three of those credit unions, as of Tuesday afternoon, have not closed their branches. The cooperatives include the $16.7 billion Schools First Federal Credit Union in Santa Ana, Calif., which operates about 65 branches, the $4.9 billion Desert Financial Federal Credit Union in Phoenix, which operates 48 branches, and the $1.7 billion Hawaii State Federal Credit Union, which operates 11 branches.
A few of the largest credit unions in each state have been forced to temporarily shut down some of their branches, while other cooperatives are reducing their branch operational hours or limiting the number of people allowed in the branch at any given time.
To be sure, all financial institutions have been designated by state governments as essential services, which means branches are not required to shutter during this health crisis.
California's largest cooperative by assets, SchoolsFirst FCU, said on its website that all of its 65 branches and other operations are open with no restrictions on lobby visits, as of Tuesday afternoon.
"Our branches and operation centers are not closing. We will remain open and are here to serve our members. This includes usage of your debit, ATM and credit cards," SchoolsFirst FCU President/CEO Bill Cheney wrote in a letter to 936,243 members. "We're monitoring our ATMs to ensure there is enough cash available."
In contrast, California's largest credit union by members, the $12.9 billion Golden 1 in Sacramento with 1,050,001 members, has temporarily closed nine of its 73 branches. The branches open are operating on temporary hours of 10 a.m. to 4 p.m.
Desert Financial said its branches are open but with limited staff in order to reduce the risks of exposure to the coronavirus. Members were encouraged to use drive-thru windows and ATMs whenever possible. The credit union also noted there may be longer than usual wait times at branches and by phone.
Hawaii State FCU said branch employees are taking extra steps to minimize the spread of the coronavirus by frequently sanitizing their work stations and member service areas. The credit union is asking members not to visit branches if they are sick or have the classic symptoms of the coronavirus, which include fever, cough and shortness of breath.
Although the credit union's branches remain open for now, on March 30 it is closing five locations. At least five other branches will remain open, however, with extended hours, 8 a.m. to 6 p.m., while its Maui branch will also remain open during normal business hours, 8 a.m. to 5 p.m.
Some of the nation's largest credit unions have closed some or most of their branches.
For example, the $11.7 billion America First Credit Union in Riverdale, Utah, operates more than 130 branches across Utah, Nevada and Arizona that serves 1,085,451 members, has listed 31 temporary branch closures in Utah although the credit union is allowing safe deposit access by appointment only at three locations, according to America First's website. Three other branches in Utah are operating drive-thru services only.
Washington, D.C.'s largest cooperative, the $5.1 billion BFSFCU that serves nearly 90,000 members, has temporarily closed three of its four locations. According to its website, the credit union's I Street branch remains open but only for members with lending needs and "pressing" account transactions from 9 a.m. to 1 p.m.
The Keystone State's largest cooperative, the $6.2 billion Pennsylvania State Employees Credit Union in Harrisburg that serve 472,601 members, has temporarily closed one of its 25 branches, while another branch is accepting appointment-only requests from members. The credit union also temporarily closed PSECU's Financial Education Centers and its State College Financial Center.
Moreover, PSECU postponed its March 30 annual meeting to July 6, and it has temporarily stopped any new mortgage applications because many of its partner organizations that the credit union relies on to process mortgage loans are temporarily unable to operate because of restrictions put in place to limit the coronavirus spread and exposure.
The $1.4 billion Barksdale Federal Credit Union, Louisiana's largest cooperative, also had to postpone its annual meeting and is expected to announce a new date later.
The $3.7 billion State Employees Credit Union of Maryland in Linthicum has temporarily shut down four locations through March 27, though 18 branches are open for its 253,136 members via appointment only. What's more, in an effort to assist seniors while not compromising their health, SECU is making its branches available to them only via appointments from 9 a.m. to 10 a.m.
The $5 billion Wright-Patt Credit Union in Beavercreek, Ohio, which serves 399,523 members, has temporarily closed six branches, while five locations have limited lobby transactions and 20 branches are providing drive-thru services and appointment-only branch visits.
Many credit unions are reporting heavy call volumes.
Lucky for the $5 billion Idaho Central Credit Union in Chubbuck, it added capacity to all inbound phone systems.
"Last summer, we worked through a massive upgrade to our data center and related systems," ICCU President/CEO Kent Oram wrote in a letter to 387,351 members. "Our electronic capabilities have never been stronger than they are today. I am proud of the ICCU Green Team!"