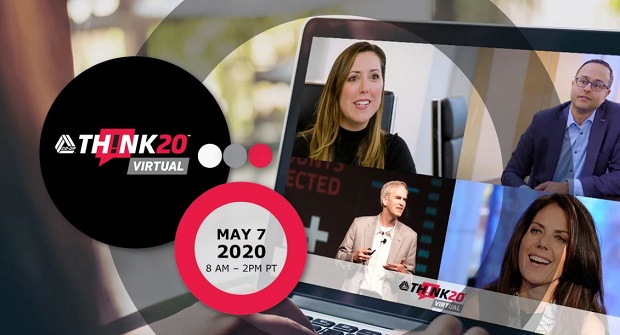 Like many event organizers in the credit union industry, CO-OP Financial Services has temporarily gone virtual.
CO-OP had to postpone its popular THINK conference, originally scheduled for May 4-7, until August. However, the Rancho Cucamonga, Calif.-based company said it is hosting a virtual event on May 7 that will focus on credit union strategies for becoming financial services providers most able to help Americans in the new economic environment.
The move came after a tidal wave of conference postponements and cancellations washed over the credit union industry in March, prompting many organizations to move to virtual platforms for mass gatherings.
"Serving members in their everyday lifestyles, not just at key life stages, is the best way to provide financial wellness for members and long-term growth for credit unions," CO-OP Chief Experience Officer Samantha Paxson said. "What does this lifestyle look like now, in the wake of COVID-19? During THINK 20 Virtual we will explore the 'new normal' financial landscape and how credit unions can live their mission, chart their own way forward and contribute to getting the economy back on track, one member at a time."
CO-OP is one of the latest in a string of industry organizations that have pivoted to virtual conferences in recent weeks.
Filene, for example, was originally planning to host its research event, "The New Credit Union Experience," on April 28-29 in Boston. But it's now a virtual conference.
"We know that this is a change in plans that you may not have been expecting, but we feel that this is the right thing to do, and we will work with you to deliver on our promises for this event virtually instead of in-person," Filene CEO Mark Meyer said in an announcement about the shift.
And as previously reported, the Heartland Credit Union Association, which represents credit unions in Kansas and Missouri, held its March 24 Innovation conference as a virtual event. The association said its conference topics were especially relevant today, making a virtual event all the more worthwhile.
"The focus of our Innovation Conference was to curate four fintech solutions, and we decided against rescheduling, because we might lose some 'newness' of these options. Plus, these solutions included things like process automation with artificial intelligence and mobile apps for members, which are very relevant during this time of 'social distancing,'" Heartland Credit Union Association Director of Training & Events Clint Armistead told CU Times.
The $1.5 trillion business event industry has undoubtedly taken a hit in recent weeks.
"We do not yet know with any degree of certainty what the total impact will be on communities and the global economy; we do know that it will be significant," the trade group Events Industry Council noted in a March 19 press release.
Back in September, the American Express Meetings & Event forecast predicted that the number of conferences and tradeshow meetings would rise by 1.65% in North America this year and overall meeting spend within organizations would increase by 1.6%.
In addition, 59% of the 550 surveyed meetings and events professionals in North America said they were optimistic about the ability to incorporate technology into the meetings experience.