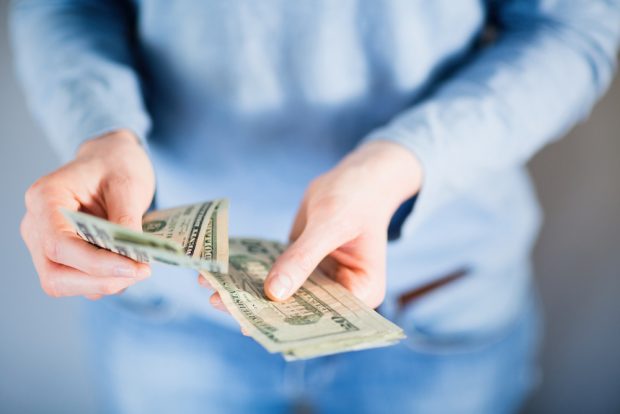 The number of payments made in cash in the United States will shrink at a 1.5% compound annual rate between 2019 and 2023 in the United States largely due to consumer worries about the coronavirus, according to new forecasts from analytics and consulting company GlobalData.
The London, England-based firm said that before the outbreak, it expected the number of cash transactions to rise at a 2.5% compound annual growth rate between 2019 and 2023.
In addition, pre-COVID, GlobalData predicted a 7.6% compound annual growth rate in the total number of payments transactions between 2019 and 2023. It has since revised that down to 4.5%, mainly due to the forecasted drop in cash use.
"The decline in overall spending will be somewhat offset by a rise in online payments," GlobalData Banking and Payments Analyst Ravi Sharma said. "Wary consumers will stay home and use the online channel to purchase goods in order to avoid exposing themselves to the disease."
"While the uptake of contactless card payments in the U.S. has been relatively slow, this crisis should give a push to these payments, since they allow consumers to avoid handling cash or point-of-sale terminals," Sharma added.
The estimates came amid ongoing controversy about the physical safety of cash, checkout areas and consumer shopping habits.
The ATM Industry Association, for example, has made a "Cash is Still Safe" graphic available on its website for ATM businesses. The graphic states, "Cash is 'no dirtier' than most physical surfaces such as cell phones, handles, rails, table tops, door knobs, etc. Stay healthy by washing hands and surfaces regularly."
In addition, an April 3 bulletin from the Bank of International Settlements, for example, noted, "The fact that the virus survives best on nonporous materials, such as plastic or stainless steel, means that debit or credit card terminals or PIN pads could transmit the virus too."
Although the outbreak could lead to precautionary holdings of cash among consumers, the BIS added, it could also prompt what it called a "structural increase" in mobile, card and online payments, including contactless payments, which allow people to avoid touching POS card terminals to provide signatures or input PINs.
"A realistic assessment of the risks of transmission through cash is particularly important because there could be distributional consequences of any move away from cash. If cash is not generally accepted as a means of payment, this could open a 'payments divide' between those with access to digital payments and those without. This in turn could have an especially severe impact on unbanked and older consumers," it said.
In an April 7 guidance note about humanitarian-aid distributions of cash and voucher assistance, the World Health Organization also weighed in.
"Contactless electronic or mobile payments should be the preferred option to reduce the risk of transmission," it said. "Where this is not possible, those handling cash should adhere to the basic preventive measures as stated above; regular handwashing and avoid touching of the mouth, nose or eyes when having been in contact with any surface that can potentially be contaminated.
Additionally, these measures should also extend to ATM machines or other forms of cash exchange/withdrawal, including maintaining 1.5 meters between users, and the surface of the machines/counters should be regularly disinfected."