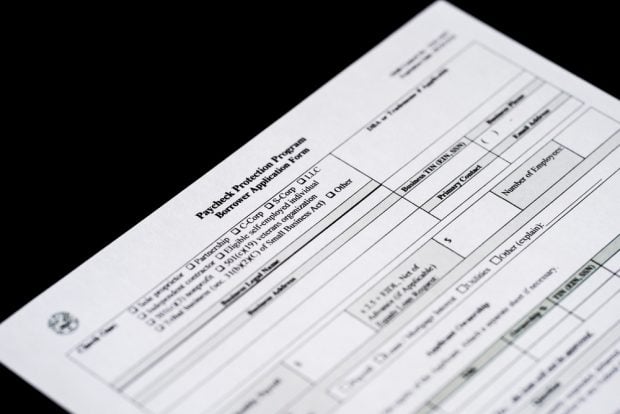 Several fintech providers began offering products geared toward enabling credit unions, and other financial institutions, to help businesses seeking relief under the SBA's Paycheck Protection Program during the coronavirus crisis.
The Brookfield, Wis.-based Fiserv announced financial institutions can now accept applications from small businesses seeking relief under the PPP as part of the Coronavirus Aid, Relief, and Economic Security Act. The PPP focuses on providing businesses with less than 500 employees, including sole proprietors, independent contractors and self-employed persons, with funding to enable them to continue to pay employees through the existing crisis period.
Businesses can apply for these loans through an approved financial institution, which are preparing for a high volume of applications. In order to meet demand and streamline data collection, Fiserv is equipping approved financial institutions to accept PPP applications through their websites and online banking portals, or the Clover platform, which allows businesses to accept point-of sale payments and manage operational and financial activities.
Fiserv said its one-click application access will enable small businesses to quickly apply for funding through familiar banking and merchant processing channels, while the integrated workflow automation allows financial institutions access to the SBA E-Tran system for approvals while managing documentation and boarding the loans.
"Helping small businesses quickly and seamlessly apply for much needed PPP loans is a top priority for our financial institution clients, and many are anticipating a high volume of applications," Todd Horvath, group president of account processing at Fiserv, said. "We're equipping our clients with the technology they need to support their customers and communities."
The Monett, Mo.-based Jack Henry & Associates also announced its Jack Henry Lending expanded its commercial lending suite of solutions to allow credit unions and banks to support PPP loans. Financial institutions can deploy this solution immediately in order to support the expected high volumes of loan applications generated by the CARES Act. The fully brandable, intuitive user interface empowers small business borrowers to enter the required information online and securely upload the supporting documents.
According to JHA, many banks and credit unions are already serving these borrowers through the existing suite of commercial lending solutions from Jack Henry Lending with more than 700 clients already evaluating this solution.
Terry Renoux, group president of Jack Henry Lending, stated, "This global pandemic has created unprecedented challenges for businesses across the country, and banks and credit unions are in a unique position to help these organizations in their time of extreme need. Our lending solution enables financial institutions to accept digital applications immediately and automatically render conditional decisions while efficiently managing the significant increase in loan requests."
The New York City-based LoanStreet Inc., which provides an integrated online lending platform, also launched a new, specialized origination, servicing and reporting solution for credit unions and banks that plan to participate in the PPP. Financial institutions of any size can streamline the process and ensure compliance with the new law using LoanStreet's platform for sharing, managing and originating loans.
"LoanStreet's specialized SBA PPP platform provides all the necessary tools to enable financial institutions to immediately originate and service SBA PPP loans at scale regardless of their prior experience with the SBA or existing technology capabilities," Ian Lampl, CEO of LoanStreet, said.
Lampl emphasized because of the anticipated heavy, immediate demand for SBA PPP loans, it will overwhelm many lenders' existing systems, which rely on manual and in-person processes, to the point financial institutions might have to direct borrowers seeking SBA PPP loans elsewhere. "LoanStreet is ensuring all lenders have access to the necessary technology to implement SBA PPP lending at scale quickly, because we believe the program's $350 billion funding cap will likely be oversubscribed."
LoanStreet's SBA PPP lending platform features include: An SBA PPP underwriting module that enables the lender to securely collect the required application and supporting documents; pre-loaded lending terms to align with the SBA PPP requirements within the CARES Act; an SBA PPP servicing module that automates all calculations and reporting required; an intuitive integrated platform that requires no onsite installation and is usable by remote staff; and fully electronic process management system operational under remote operating conditions.