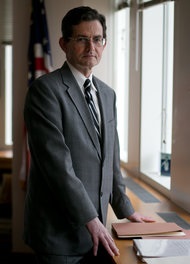 U.S. District Court Judge John Gleeson ruled Friday that retailers unhappy with the settlement of a credit card interchange civil suit may continue with a new legal proceeding against major card brands.
Court records are not yet publicly available, but according to published reports Judge Gleeson, who sits on the U.S. District Court for the Eastern District of New York and is pictured at left, also ruled that litigation brought about by the card brands against retailers may also continue.
Judge Gleeson presided over the multi-year case, which was settled last year but saw many unhappy retailers opt-out of the settlement.
Media outlets reported 30 major retailers are involved in suits against card brands over credit card interchange, including Macy's, Target and Wal-Mart, all pursuing damages for a second time. Published reports note, however, that Wal-Mart sued only Visa and not MasterCard, and that MasterCard agreed to process Wal-Mart's branded cards.
Gleeson made clear in his ruling that he was not ruling on the merits of the retailers' complaints, but was allowing them to go forward because, at this early stage in the process, he was bound to allow all credibly argued claims to continue.