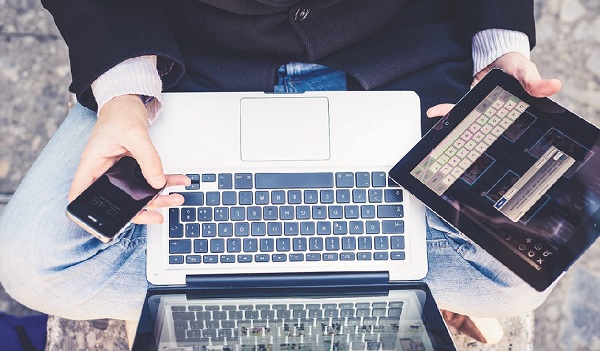 When James Breen looks into the near future, he sees a dramatic changing of the guard.
Mobile banking will eclipse online banking in three to five years, said Breen who is SVP at the $5.4 billion Bethpage Federal Credit Union in Bethpage, N.Y.
"It's going to happen, it is inevitable," said Breen. "Just over 50% of our online banking users now are mainly on mobile. It's more convenient and they get alerts. They are using online less and less."
Some credit unions say the domination of mobile is already happening. A spokeswoman for the $55 billion Navy Federal Credit Union in Vienna, Va., said she believes it's possible that the financial institution's mobile usage could surpass online banking this year. One of the main reasons is many of its 4.6 million members are heavy mobile device users, she added.
Other reasons that point to the shift are home PCs are falling into disuse, industry sales have cratered and many homes are replacing dead computers with tablets, which also count as mobile devices.
At the Austin, Texas-based mobile banking apps developer Malauzai, co-founder Robb Gaynor said at financial institutions where mobile banking has been offered for at least 12 months, the typical usage growth per month is 5% and that usually occurs with very little marketing. Meanwhile, online banking usage is flat, he noted.
"Mobile banking will keep getting bigger as smartphone prices continue to fall," predicted Breen who said the younger the member, in many ways, the stronger the preference for mobile banking, with those under the age of 40 being the heaviest users.
A survey from global business advisory firm AlixPartners revealed 28% of U.S. consumers now use mobile banking, up from 19% in the fourth quarter of 2012. But do not bury online banking just yet. At the $290 million Charlotte Metro Federal Credit Union in Charlotte, N.C., David Cooper, vice president of information systems, argued that while mobile will keep growing, online banking is unlikely to fade away.
Certain tasks such as personal financial management tools work better on large screens, he said. While they can be done on a tiny phone screen, given a choice, some members would opt for a bigger screen to complete a mortgage application, for instance.
A typical session is very short, often under a minute, and may involve checking a balance or paying a bill and then signing off. There is not a lot of leisurely viewing on the mobile channel and that, too, differentiates it from the online channel. What has fueled the growth is that it continues to add features that make it in some ways, superior to online banking.
"The user can do things in mobile that cannot be done online, like mobile remote deposit capture and picture pay," said Gaynor, adding as more functions are built into mobile, usage will continue to grow.