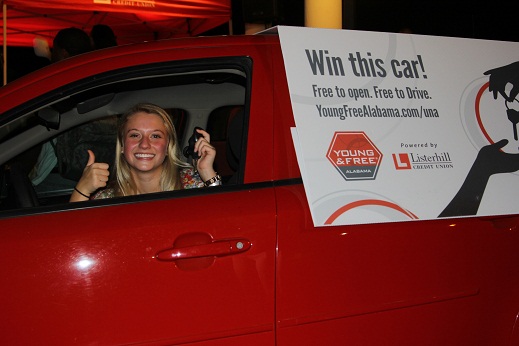 The $574 million Listerhill Credit Union in Sheffield, Ala., had something to give away, a 2009 Chevrolet Cobalt in "Listerhill Red." A happy taker was Kristen Tatum of Florence, Ala., who was presented the keys to the car in front of hundreds of classmates at the University of North Alabama during the school's The Big Deal back to school event.
Listerhill's Young & Free program sponsored the drawing, open to all holders of The Hill accounts designed for 15 to 29 year olds.
"There are very few financial institutions in the country that have the supportive relationship Listerhill does with UNA," said Brad Green, president/CEO of Listerhill Credit Union, which has an on-campus branch at the 7,200-student UNA.
"We are the top corporate contributor to the university because we believe strongly in the financial literacy of its students and in their impact on this area's future," Green said.
The Hill account offers free checking with no minimum balance, a free debit card, and free mobile banking in addition to on-campus access to the student-run Listerhill branch. There is also an "Oops Refund" feature that provides accountholders refunds on insufficient funds or overdraft fees up to five times annually, the credit union said.