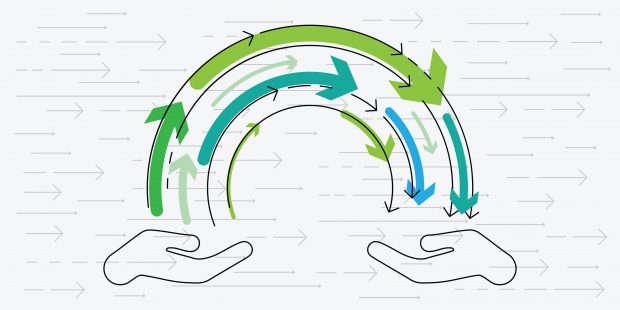 Credit unions have been relying on third-party providers, such as Business Data, Inc., which helps them communicate with members through web, print/mail and documentation channels, to stay connected during the coronavirus crisis.
The Inglewood, Calif.-based BDI, which provides financial statement solutions to financial institutions including almost 190 credit unions, has helped financial institutions through a number of crises in its some 36 years in business, but COVID-19 continues to present its own challenges. Paul A. Holtzman, president/CEO for BDI, said, "We were able to finish our quarterly cycle, which is always our largest cycle for credit unions in a period of about five to six days, which is incredible."
Paul Holtzman noted millions of statements went out both electronically and by mail without a hiccup. "Fortunately, all of our customers were able to communicate with us digitally, effectively and securely. We didn't really have any occurrences that turned out to be a challenge." He admitted they were concerned with people working remotely. They did provide advisories to credit union clients stating they cannot compromise the security of data coming into them. "We wanted to make absolutely sure they had their IP identified properly through their credit union coming through our dedicated lines."
Todd Holtzman, BDI's director of new business development, explained any disruption that occurred was a result of the credit unions preparing employees to work remotely in a secure environment. "It took a while for the institutions to get up to speed. The credit unions really focused on how to get that piece of the puzzle done because they wanted to be able to continue business regardless of where their critical staff was working." In addition, he noted a lot of credit unions were not really thinking about how they work with the third parties they rely on so much for their day-to-day production. "Outside of the first couple of weeks during this home lockdown, the credit unions have actually been performing pretty nicely."
Paul Holtzman described BDI's long history of working with credit unions starting with its very beginning. "Our primary service is creating and distributing either electronic or printed, mailed statements for credit unions." He added, "We are very fortunate because during these very trying times right now, we have been able to perform extremely well." That includes taking precautions to ensure employees are safe and healthy such as following spacing guidelines, providing masks and sanitizers, and taking employees' temperature.
BDI sends out about 600,000 statements (mostly printed) a day over about a five- or six-day period. "In the last two years, we've started to see the e-statement side accelerate with print remaining relatively flat in terms of increased volume," Todd Holtzman said. BDI also distributes electronic credit card and daily notifications such as overdrafts, as well as transfer letters.
Another COVID-19 impact, according to BDI, is the deferment of annual meetings, normally occurring in April or May, which required notifications to be sent out. For one credit union, that meant some 85,000 pieces of letters that needed turning in a day or two. BDI said it anticipates more similar correspondence as the need to communicate with members increases.
As a longtime observer of and participant in the credit union industry, Paul Holtzman added some perspective on events occurring right now. "In the 2008/2009 meltdown we saw a lot of consolidations, right? Going forward, particularly with what's happening now with COVID-19, the concern among some people within credit unions we've talked to is the ability for the smaller credit unions to survive." He added, that depends on how long the coronavirus impact remains and what kind of business they can generate in the interim. "What we do see as a trend is where the bigger credit unions will probably absorb some of the smaller ones."
What BDI said it does anticipate is the need for messaging vehicles increasing. "We're seeing a lot of volume coming now for strictly communications from the credit unions to the clients, whether it's notifications, new products and so forth," Paul Holtzman maintained. "We see ourselves as not only a statement provider, but a provider of communications, electronic printing, electronic imaging … whatever is coming in every day."