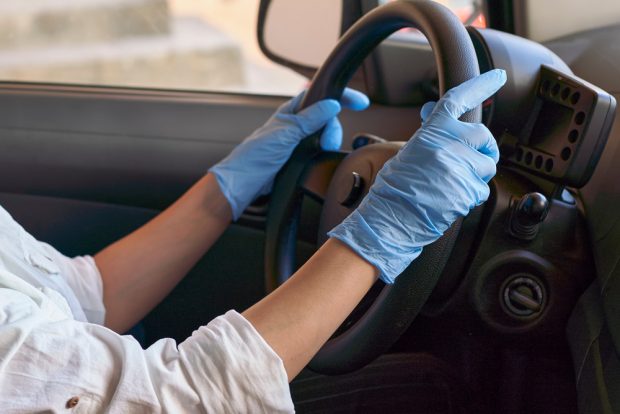 If traditional lenders thought Carvana presented a small threat before the coronavirus pandemic, they are finding it a major challenge in a world where its once novel online business model is quickly becoming the norm.
Carvana didn't have to make many changes. In March it began promoting "Touchless Delivery," which added additional hygiene when the Carvana truck driver rolls off cars at delivery to cars to homes. On April 9, it announced a 90-day deferred payment program, and its ads began appearing on television promoting its online method of selling and financing used cars as the "safer way" to buy a car.
"We're all in a different world," Ernie Garcia, Carvana founder and CEO, said in a March 25 news release. "Safety is our No. 1 priority. "Now the 'New Way to Buy a Car' is also the safer way to buy a car."
Credit unions report that auto sales and lending have plummeted sales since mid-March as people were told to stay at home to avoid spreading the coronavirus. Some believe the drop is increasingly reflecting the reality or threat of layoffs. But to the extent it reflects worries about hygiene, dealers and lenders are trying to allay those concerns by closing gaps in their processes that require human contact, building capacity for online sales and promoting their own touchless sales methods.
Some dealers are using more Carvana-like techniques, such as offering virtual walk-throughs of cars through Facetime or Zoom.
When Emelie Harris walked into Beaman Toyota in Nashville in early April, she found encountered only one other customer, and saw only a sprinkling of employees in the showroom. The 24-year-old was allowed a solo test drive of a 2019 Toyota RAV4, which she was told had been disinfected. She left them with a photocopy of her driver's license and her insurance card. She picked up the keys off the counter.
When she returned she worked out the deal in a finance office with papers passed beneath a plastic shield.
Beaman Toyota's web landing page on April 16 promoted its "Buy from Home" program. Besides the usual online paperwork offerings, it allows vehicles to be delivered to customers' homes for test drives and after-sales deliveries.
The site also describes sanitation precautions that include drivers and other employees using protective steering wheel covers, seat covers and gloves at all times when in customer vehicles.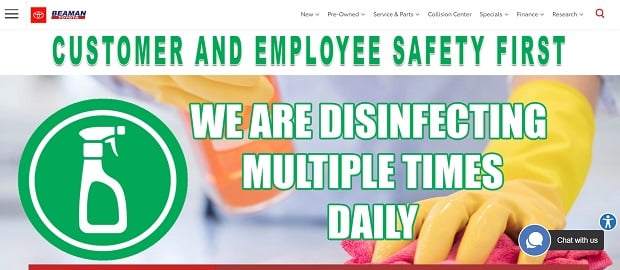 "We are continually cleaning and sanitizing all commonly touched surfaces and community areas in our facilities every hour using CDC recommended products," the website says. "Our staff members participate in daily health checks upon arrival to work, practice recommended social distancing, and do frequent hand washing."
Beaman offers a 90-day deferred payment program on its cars, as do many credit unions.
In late March Canvas Credit Union based near Denver ($2.7 billion in assets, 252,825 members) began offering loans with no payments for 90 days "to help who are on the fence whether they should buy a car."
Competition from some manufacturers is even stiffer: "They're offering 84 months at zero percent," said Chad Shane, SVP and chief lending officer.
Ford is offering cash rebates in April of $1,500 to $2,250 only for those who finance through Ford Credit, and is allowing the rebates to be used to defer the first three months of payments.
"Some of those people will take advantage of the rebate and still finance with their credit union," Shane said.
Canvas has been relying on its online loan origination system and DocuSign. "Whether it's a direct or indirect auto loan, we can do almost the entire process electronically," Shane said.
The one hang-up was a quirk in Colorado and a handful of other states that require some documents on auto loans and mortgages to be hand-notarized. But that rule has been put aside in the emergency—a change that Shane expects, or at least hopes, will survive the pandemic.
Casey Perkins, VP of consumer lending for Ent Credit Union in Colorado Springs, Colo. ($6.7 billion in assets, 374,386 members) said dealer volume fell 80% to 90% after March 26, when Gov. Jared Polis issued a statewide stay-at-home order.
Dealership showrooms are closed with sales limited to online. Dealers are delivering cars to homes, or even vacant parking lots or other sites. Shoppers must schedule a test drive in advance if they go to a dealer showroom, or the dealer drops off the car at the shopper's home for as long as six hours, Perkins said.
"Think about that: It means dealers are leaving hard plates on those cars, exposing them to potential fraud, damage and delayed returns."
Meanwhile, shoppers can comparison shop more easily online.
"It's a different consumer out there right now: not only negotiating with one dealer but multiple dealers simultaneously. With sales down significantly, stores are struggling to break even."