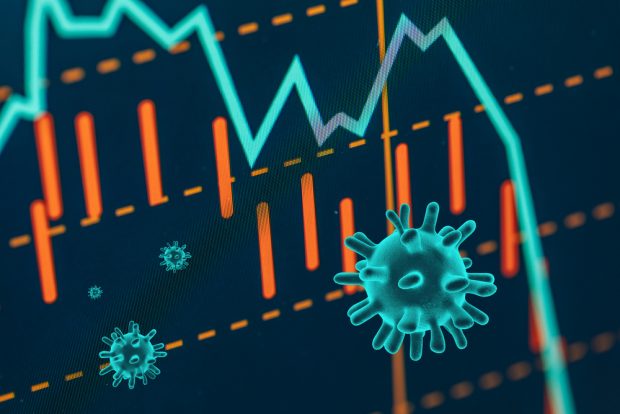 Credit unions have begun rolling out special disaster-type loans to help members weather the financial storm set off by the coronavirus pandemic.
They are likely to need it. A monthly survey released by an LendingTree subsidiary on Thursday showed more credit card holders began doubting their ability to pay off the full balance on their next monthly payment after the stock market dived March 9.
Meanwhile, the Economic Policy Institute in Washington, D.C., predicted the U.S. could lose three million jobs by summer, essentially rolling back job gains to levels last seen in 2018.
"At this point, a coronavirus recession is inevitable. But the policy response can determine how deep it is, how long it lasts, and how rapidly the economy bounces back from it," Josh Bivens, EPI's director of research, wrote in a blog post Tuesday.
"Put simply, the federal government needs to finance a much larger part of household consumption in coming months, transfer significant fiscal aid to state governments, and ramp up direct government purchases (particularly on items helpful in fighting the epidemic)," Bivens wrote.
Credit unions are also stepping up to help members bridge this surprise economic reversal. Among them are ORNL Federal Credit Union in Oak Ridge, Tenn. ($2.3 billion in assets, 173,671 members) and Gesa Credit Union in Richland, Wash. ($3.7 billion in assets, 252,619 members).
East Tennessee's ORNL FCU created a Pandemic State of Emergency Assistance Loan Program, allowing impacted members to apply for an unsecured loan at 0% interest for the first six months and 3% fixed interest for the remainder of the term.
Terms extend up to 48 months and members can take up to 90 days to make their first payment, with the limit based on the member's income. It describes its underwriting requirements as "very limited."
"We anticipate many members could be impacted by the pandemic state of emergency and we want to be prepared to help them in their time of need," ORNL FCU President/CEO Colin Anderson said. "Our goal is to make sure our members and their families are taken care of during this uncertain time."
Gesa is offering low or zero interest rate personal loans to members facing financial hardship because of the coronavirus. The loans can cover bills and other expenses associated with the coronavirus pandemic, including interrupted employment and income, childcare costs and other unexpected impacts caused by the coronavirus.
Gesa is also reminding members of its existing emergency relief programs. It's Skip-A-Payment program allows most members to skip a loan payment for up to 90 days, and skip a credit card payment for up to 30 days to free up cash to cover unexpected challenges.
Card holders seemed to wake up last week to the potential for the pandemic to challenge their livelihoods, even if they did not contract COVID-19.
Lending Tree's CompareCards.com website polled cardholders March 9-12 and found one in seven cardholders who said they didn't feel confident about paying their credit card bills in full this month cited the coronavirus as the reason.
Stock market volatility may have hurt confidence. Those polled after March 9 — the day after the biggest one-day point drop in the history of the Dow Jones Industrial Average — were far less confident in their ability to pay off their credit card balances than those polled March 9.
On March 11, the World Health Organization declared COVID-19 a pandemic, and markets tanked again March 11-12.
Among those who took the survey March 9, 71% rated their confidence on a 1-to-5 scale to pay off this month's bill as 4 or 5, while just 16% said it was a 1 or a 2. For those surveyed March 10-12, just 59% rated their confidence level as a 4 or 5, while 28% said it was a 1 or a 2.
Since then the market has continued to gyrate downward. The Dow Jones Industrial Average closed Wednesday at 19,899, down 6% from Tuesday, 17% from March 9 and 33% since its historic peak on Feb. 12.
CompareCards.com noted that card issuers like Apple and Goldman Sachs are rolling out relief efforts that allow customers to skip their March payment without interest.