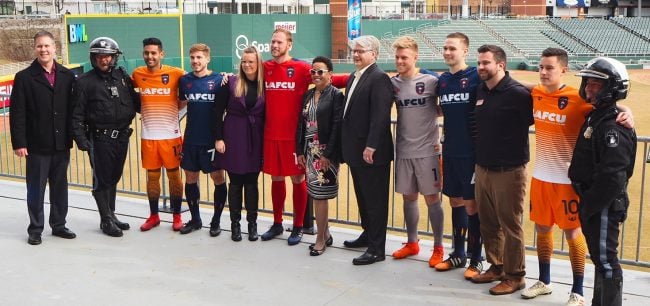 Representatives, including President/CEO Pat Spyke, sixth from right, from the $724 million LAFCU in Lansing, Mich., support Lansing Ignite FC in unveiling the soccer team's inaugural uniforms sponsored by LAFCU. Also pictured are police officers who led players into Cooley Law School Stadium via a motorcycle motorcade. The credit union pledged long-term support for Lansing Ignite FC by stepping up as the inaugural kit, or uniform, sponsor through 2023. Among other LAFCU-sponsored activities will be a Fireworks Spectacular following the 2019 season's final match on Oct. 5.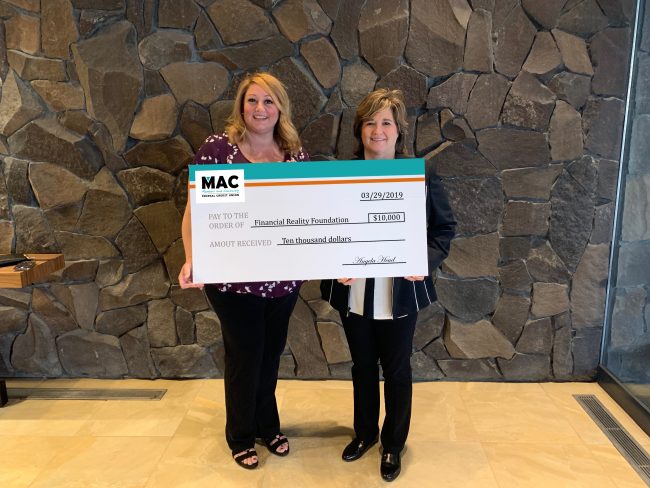 Angela Head (right), president/CEO for the $110 million MAC Federal Credit Union in Fairbanks, Alaska, presents a $10,000 check to Karina Wentworth (left), founder of Financial Reality Foundation. The Get REAL Financial Reality Fair, provided by the Financial Reality Foundation, is an interactive program that allows students to make budgeting decisions and mistakes in a fun-filled, interactive learning environment. The event is a two-hour simulation, specifically designed for high school seniors, where they make real-life choices about a post high school career and how to stay within budget while paying for necessities such as housing, food and transportation, to name a few. Along the way, needs versus wants are tested as community volunteers sell vacations, puppies, hot tubs and many more impulse spending items that can have a major impact on a budget. The Financial Reality Foundation partners with local credit unions like MAC FCU, providing them with a turnkey reality fair package that makes it possible for the credit union to host these fairs at local high schools. In a collaborative effort, the foundation and credit unions work with their own staff and community partners to provide the event for students in their own schools during their school day.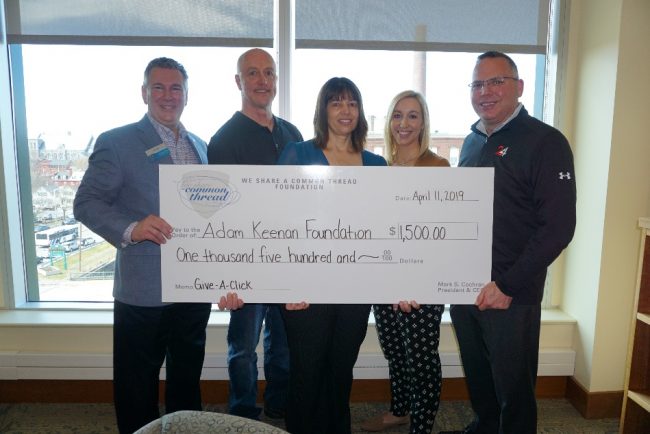 From left to right, Mark S. Cochran, president/CEO of the $1.3 billion Jeanne D'Arc Credit Union in Lowell, Mass., presents Mike Keenan, Audrey Keenan, Christine Keenan and Chris Hall from the Adam Keenan Foundation, Inc. with a $1,500 donation prize as part of the credit union's Give-A-Click campaign. The organization received the donation from the credit union's We Share a Common Thread Foundation. The Give-A-Click program runs quarterly on the We Share a Common Thread Foundation website. Community members visit the site, learn about three worthy non-profit contestants, and cast their vote for the one they would like to support. The organization with the most votes at the end of the quarter is awarded a $1,500 donation from the Foundation. The Adam Keenan Foundation, the first quarter winner, raises funds to ensure that Automated External Defibrillators are available at athletic facilities and public places throughout the Merrimack Valley area. The Foundation was founded in memory and honor of Adam Keenan, who passed away unexpectedly at age 20 after he suffered sudden cardiac arrest during a baseball practice. Keenan's family says an AED could have saved his life.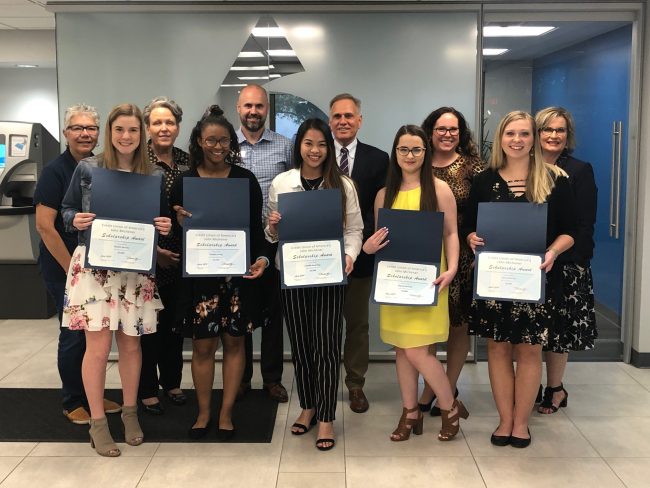 The scholarship selection committee from the $890 million Credit Union of America in Wichita, Kan., awards $2,000 educational scholarships to 10 students at an awards dinner held the evening of April 16, 2019. In the back row from left to right are selection committee members Joy McLain, CUA supervisory committee volunteer; Kay Glasner, CUA board of directors member; Roby Hoyle, CUA chief information officer; Frank Shoffner, CUA CEO, Cassie Bolander, CUA assistant branch manager-North Rock Branch and Tosha Klein, CUA business development specialist. In the front row from left to right are scholarship recipients Natalie Werner, Hayden Irving, Camille Buranday, Alyssa McNany and Jenna McKaig. The checks can be used by students and their families for tuition and/or living expenses related to their post-secondary education. The John Michener Scholarship program is named after and honors CUA's founding father. Michener was a science teacher at East High School in 1934 when he pursued the idea of starting a credit union for Wichita teachers.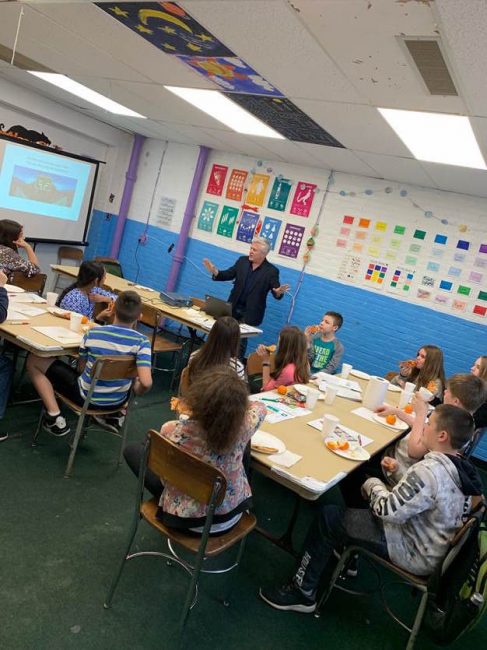 An employee from the $875 million RTN Federal Credit Union in Waltham, Mass., teaches a financial education seminar to children from the Marlborough Boys & Girls Club. RTN and RTN GoodWorks Foundation co-sponsored two seminars called "Your Money and Your Future" at two different community Boys & Girls Clubs. A total of 31 kids, ages 10 to 17, attended the seminars. Topics covered included how to manage money you earn, how to plan for future earnings and how to think about future debt. The seminar introduced financial concepts through conversation and interactive activities. The kids enjoyed pizza as part of the evening's event.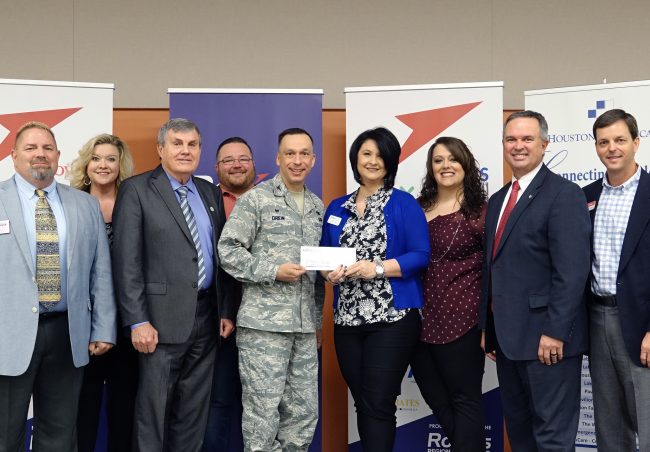 Christina O'Brien and Amy Etheridge with the $2.5 billion Robins Financial Credit Union in Warner Robins, Ga., present a check to Col. Drew, along with other members of the Robins Regional Chamber. Robins Financial recently sponsored Robins Regional Chamber Community Partners by contributing $7,500 to the Robins Air Force Base Thunder Over Georgia Air Show.
Please send your Community news items to Tahira Hayes at thayes@cutimes.com.