People walking the streets hunting magical creatures with their mobile phones might be a fad, a harbinger of social behaviors to come or a test of credit unions' agility in responding to their members' interests.
Or it might be all of the above.
In any case, Pokémon Go has been the summer phenomenon, especially for the millennial generation coveted by credit unions. While many credit unions have ignored the trend, some have incorporated it into ongoing marketing efforts in a like spirit of playfulness.
Verity Credit Union of Seattle tested a Pokémon Go strategy at its two newest branches to find out if engaging people in a context so foreign to the staid norms of a financial institution can lead to a stronger relationship with its members and community.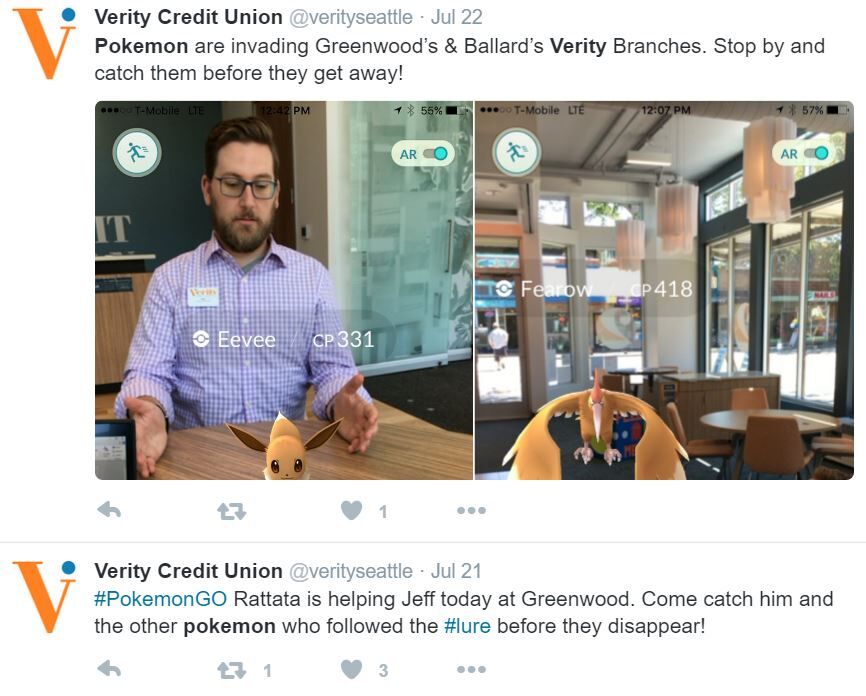 So far, the answer seems to be yes, according to Melina Young, director of marketing and brand for Verity, which has $496 million in assets and 29,797 members.
Young noticed that many players are in their late 20s or early 30s – older than she might have expected, perhaps in part because Pokémon recalls fond childhood memories. This is nice because as millennials (people born from the early 1980s to the early 2000s) they are in their prime borrowing years and the credit union's target for new members.
Next, the credit union plans to put up Pokémon posters in its windows to signal to players to come inside to recharge their phone batteries and quench their thirst with free bottled water.
Staff members familiar with the game are charged with engaging players and luring them inside in the hopes that they'll consider becoming members.
"Awareness is a huge win," Young said.
In the future, the credit union might grease the transition with a cash incentive. For now, visitors might leave with sunglasses, lip balm or other swag.
Seattle's Verity CU built awareness through Pokémon events at its branches paired with social media posts, like these Tweets from last month.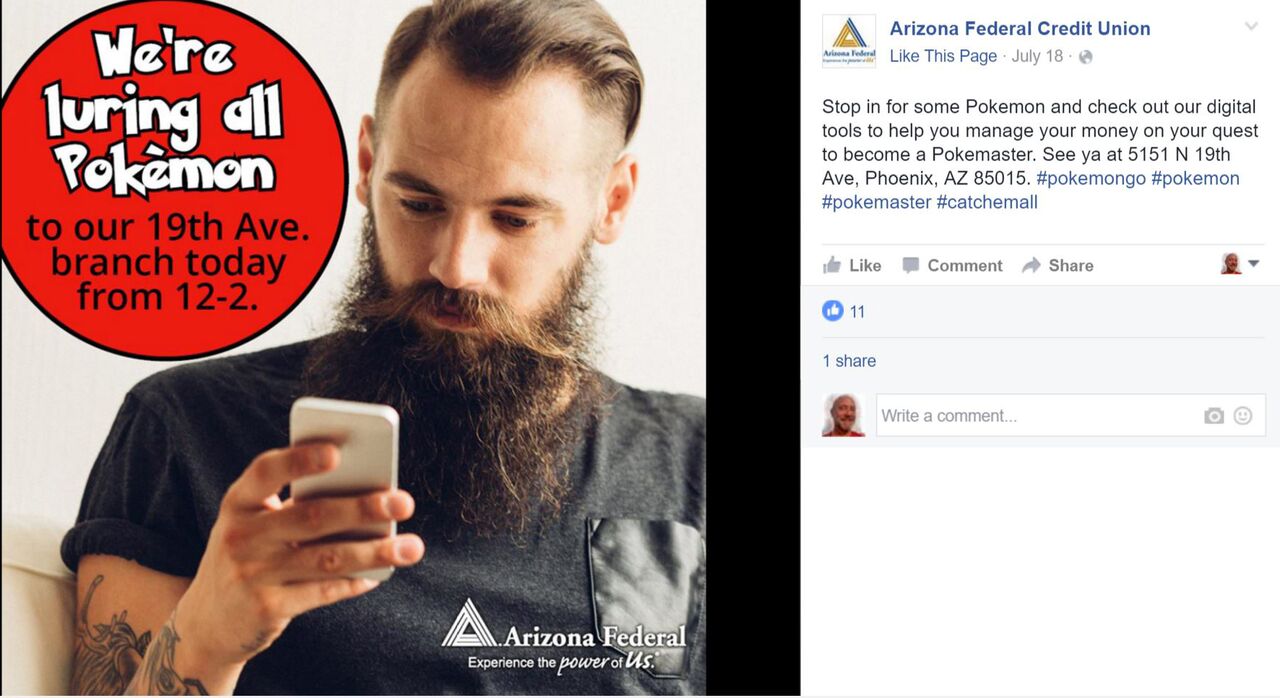 The Pokémon Go craze arrived when Arizona Federal Credit Union ($1.4 billion in assets, 123,637 members) was working to get members to notice its new apps for smartphones. One allows users to deposit a check by taking a photo of it. Another, called Card Power, allows users to turn their debit cards on and off.
Those programs are especially important because the Phoenix-based credit union is reducing its number of branches. It started the year with 17 branches and will pare back to 11 branches in the next year after it closes eight branches amd adds two new ones. The goal is to redistribute branches so members in their service area live no more than 15 minutes away from a branch, and encourage members to conduct transactions online on their computers or mobile devices.
Half of its members are at least in their early 40s, but the credit union's goal is to lower that median age by attracting more millennials, according to David Kexel, Arizona FCU's senior director of marketing.
About half of its members transact business online, but there remains a digital divide.
"The older generation – while not opposing technology – they're a little slower to adopt it. They need a little extra help," Kexel said. "We discovered one of our branches was a PokéStop. We decided to drop some lures to that PokéStop."
The timing was perfect, Kexel said. The events didn't seem to draw many players into the branches, but they raised the credit union's visibility on Facebook.
"We try to have an eye on what is trending to see if we can get any additional attention through social media," he said. "It's good to test the waters and see what works and what doesn't. And it's so inexpensive."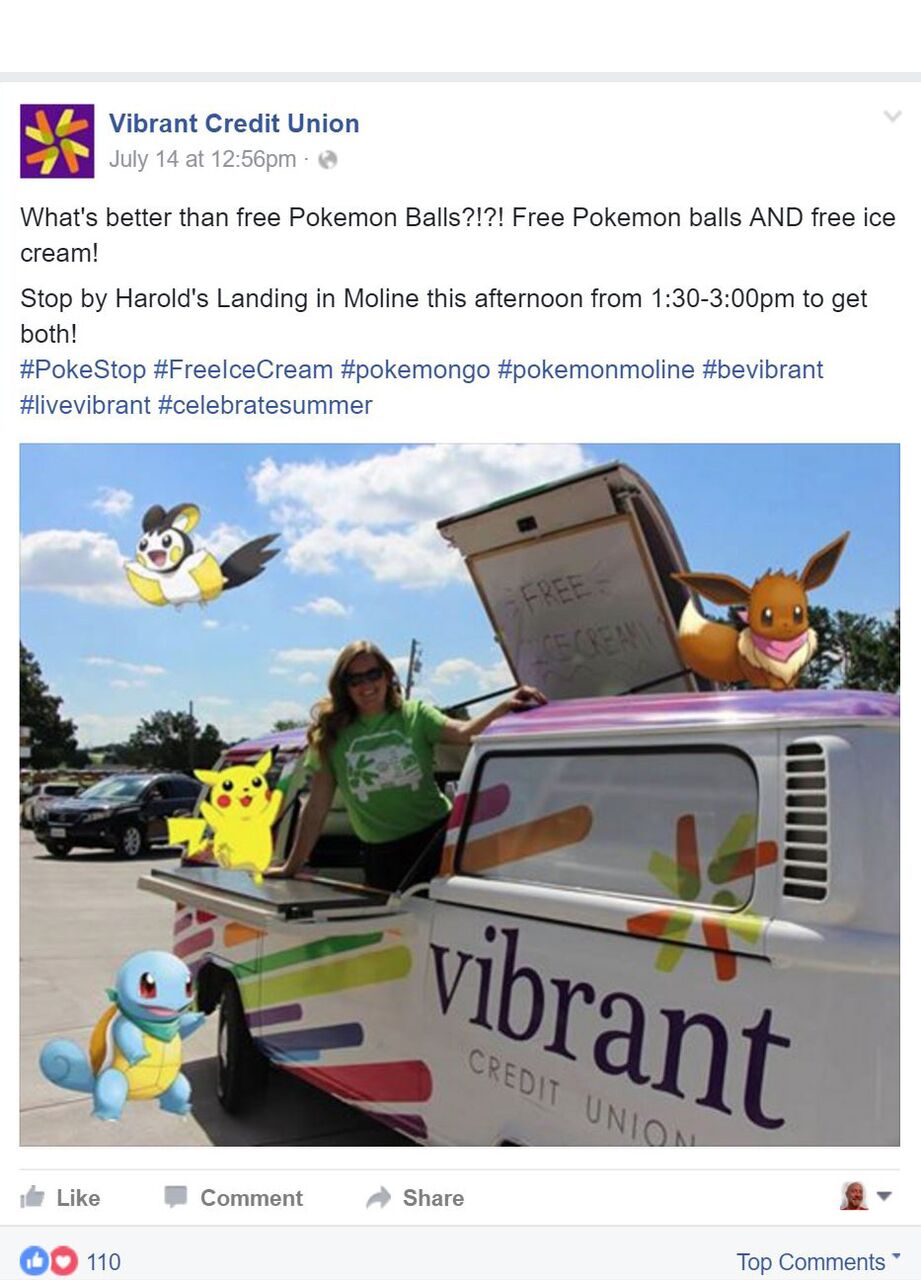 Vibrant Credit Union was prepared for the Pokémon Go outbreak. Last year, it ditched most of its advertising budget and poured that money into turning a 1974 Vokswagen van into a logo-emblazoned ice cream truck driven by a recent marketing grad charged with chasing down current and prospective members in the community – most recently at PokéStops and PokéGyms.
"We post on social media where we will be, promote it to Pokémon users, and hand out free ice cream at the PokéStop. So far we've had great success with engaging the community this way," Danielle Blocker, marketing coordinator for the Moline, Ill.-based Vibrant, which has $567 million in assets and 36,875 members.
Blocker identified Pokémon Go as an opportunity to interact – a social phenomenon that will happen whether or not Vibrant chooses to acknowledge it.
"From a marketing standpoint, regardless of whether Pokémon Go is coming or gone, if it's a fad or here to stay, credit unions should embrace it and get involved," she said. "The way we see it at Vibrant, it's such a unique and great way to meet people whom you might not otherwise have a chance to come in contact with."
She added, "I'm not sure what's next as far as video games, social media and other fads, but one thing is for sure: Credit unions need to adapt and get involved."