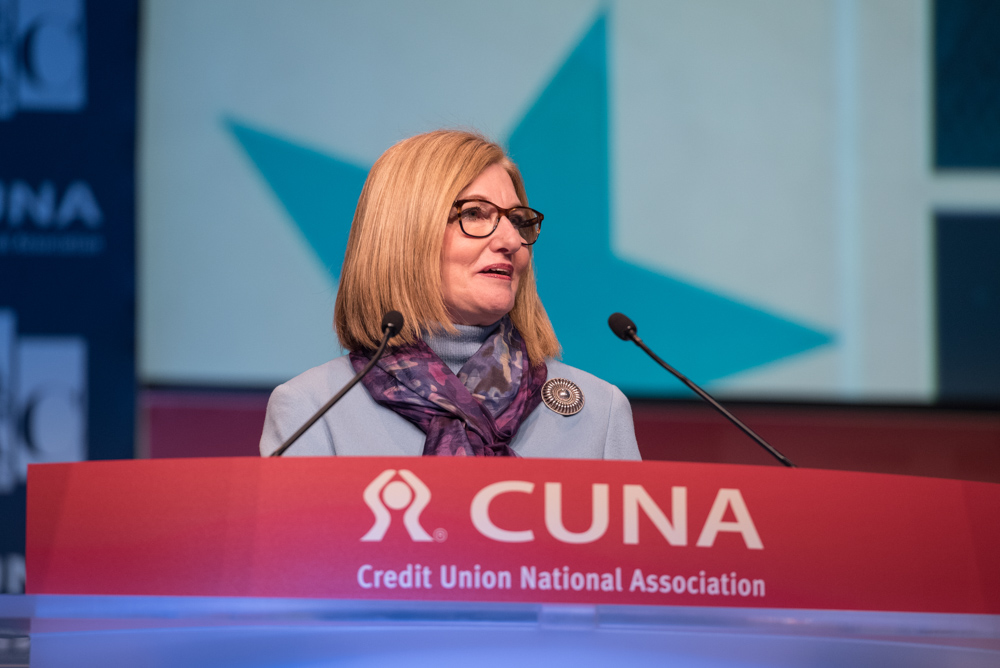 WASHINGTON – NCUA Chairman Debbie Matz called on the credit union industry to turn more millennials into members Monday during CUNA's Governmental Affairs Conference before an audience of nearly 5,000 attendees.
"For each of us to do our jobs, we must all stay ahead of the curve," Matz said. "Making millennials into members, keeping pace with evolving technology and adopting strong cybersecurity measures will determine the future of your credit union."
Matz said millennials now outnumber baby boomers and are projected to inherit $30 trillion from their parents – the greatest generational transfer of wealth in history. That, she said, presents both challenges and opportunities, and she posed several key questions for credit union leaders.
She asked how credit unions currently target their marketing to younger consumers, who are credit unions' future borrowers. She also queried the changes necessary to approach millennials via member services and who will advise institutions about such changes.
"Look around. Can any of us here, over age 40, really make informed decisions about how to communicate with and serve millennials?" Matz asked the packed room.
She discussed the need for keeping member data safe in the "age of ever-increasing cyber threats."
Additionally, she said the agency is "cutting red tape" in the Community Development Financial Institutions Fund application process to double the number of credit unions that can gain access to the fund. The regulator recently signed an agreement with the U.S. Treasury to give more credit unions access to the CDFI Fund.
"This program provides multi-million dollar grants to institutions serving economically distressed communities," she said, adding that all CDFI credit unions are also exempt from the member business lending cap to encourage more investment in their communities.
"We will keep making it easier for you to do business," she said. "Let me assure you: NCUA will keep listening and making responsible changes that will benefit you."