Dozens of credit unions invest tons of time, work and resources on rebrand projects and the painstaking task of selecting a new name.
Credit unions usually review hundreds if not thousands of names before they narrow them down to a final list of a few names that are carefully vetted, pondered and debated among executives and board members. But it's probably a very rare moment when a name surfaces that everyone unanimously agrees on because it perfectly epitomizes a credit union's strategic vision.
That happened for the former YOUR Community Credit Union, which changed its name to MOBILITY Credit Union on April 5.
The funny thing is, the word executives had been searching for to name the credit union had been in front of them all the time. What surprised them after conducting a legal and trademark search is that the name was available.
"We thought, 'Why didn't someone think of this before?'" said Dennis W. Konarski, senior vice president of marketing at the $174 million, Irving, Texas-based credit union. "Mobility matters. We all agree with that, right? But no one took the initiative or had the insight to capture the name. So why not call yourself that?"
The cooperative hired branding development firm Loudthought of Dallas to facilitate a three-month process of research, introspection, analysis and discussions to land a name that would be distinctive, memorable and convey the concept of convenient mobile access to banking services.
Because of this extensive name selection process, Konarski said the word mobility just came to him one day.
When he brought it up at an executive team meeting, everyone instantly knew it was right.
"The name MOBILITY was just a natural, and it was in front of us all the time," he said.
Over the past five years, perhaps nearly everyone in the credit union industry has been talking about mobile banking and its rapid adoption by consumers, particularly among young consumers that every cooperative is scrambling to attract.
Nevertheless, only one in four credit unions offer mobile banking, according to the NCUA's 2013 annual report.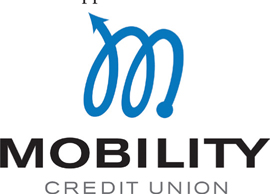 Under the leadership of MOBILITY President/CEO Mark O'Bryan, the financial institution set a strategic vision to serve the needs of a mobile society and growing consumer expectations for convenient access to banking services via smartphones, tablets, PCs, ATMs and shared branches.
"We understand current and prospective members lead busy lives and demand the ability to bank on their terms," said O'Bryan. "The name MOBILITY Credit Union reflects our capabilities to enable members to conduct transactions and access financial services from anywhere and at any time."
A March 2014 Federal Reserve Board survey of consumers' use of mobile financial services found that 51% of smartphone owners have used mobile banking, up from 48% last year. What's more, 12% of mobile phone owners who don't use mobile banking said they probably will over the next 12 months.
What's more, new results of a mobile financial services tracking study released in March by business advisory firm AlixPartners in New York found that 60% of smartphone or tablet owners who switched primary banks reported mobile banking capabilities as important or very important in their decision to switch, up from 48% last year.
"Consumers are demanding, expecting and shopping for mobile capabilities," said Bob Hedges, managing director in AlixPartners' financial services practice. "Banks who fail to innovate run the risk of losing customers and face real challenges in attracting new customers."
However, the growth of mobile banking doesn't mean branches will be fading away anytime soon. The Fed survey also found that 82% of consumers visited a branch over the past 12 months. Mobility CU operates four branches in the middle of the competitive Dallas-Fort Worth market.
While MOBILITY CU hopes its new name will convey the meaning of unfettered and convenient access to financial services, Jeff Stephens, president of Creative Brand Communications in Portland, Ore., pointed out some people may associate the word mobility with other things.
"What came to my mind was upward mobility, helping people get up to the next level of economic success or wherever they are going in life," said Stephens, who develops brands for credit unions, community banks and community development financial institutions. "I think the words in a credit union's name are important, but I think the tone or spirit that the words convey, directly or indirectly, is most important."
Stephens advises his clients that the key messages expressed through a credit union's name, tagline and logo need to reflect the soul of the cooperative because it can't be duplicated by other financial institutions.
Although the name opens a new chapter in the credit union's history, its blue logo subtly honors MOBILITY CU's roots. The cooperative was founded by IBM employees nearly 50 years ago when the cooperative was named IBM Southwest Employees CU. Within corporate and media circles, IBM was nicknamed "Big Blue."
Over time, MOBILITY CU will be rolling out its rebrand initiative, which will include installing new logos at the four branches, upgrading the website and launching marketing campaigns.
Although Konarski sees strong potential in marketing the new brand name, he said it will be the credit union's priority to also live its brand by staying committed to the freedom of mobility for members to bank on their terms without barriers or boundaries.