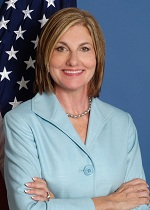 In an exclusive interview with CU Times, NCUA Board Chairman Debbie Matz responded to criticism of the NCUA's proposed rule that would prohibit credit unions from operating in homes.
The rule, which was introduced at the NCUA's board meeting in December of last year, would give credit unions two years to find commercial space.
The rule was approved by a 2-1 vote at the NCUA Board's Dec. 12 meeting, with Michael Fryzel casting the lone "no" vote. It was then put out for comment and a final vote on the rule has not been announced.
CU Times: The text of the proposed rule said the NCUA reached out to every home-based credit union about the proposal but some home-based credit unions claimed they weren't contacted by the NCUA.
Matz: There clearly is a misunderstanding. In June of this past year, our Office of Small Credit Union Initiatives sent all home-based credit unions information about relocation services that we offer, including a re-location guide, grant assistance and consulting assistance. These notices were provided via email if the credit union had email or by phone and also that information has been available online and in the newsletter. NCUA went out of its way to contact every credit union either by e-mail or by phone.
CU Times: For example, one executive from a home-based credit union said she only found out about the rule through her league after the comment period.
Matz: What does that say about her if she heard it from her league after the comment period? That means that she doesn't keep in touch with anything NCUA is doing, that she doesn't read the things that we send her, that she has no means of being communicated with – the fact that the leagues had to get in touch with her means that she's pretty much out of the loop, that she is not really trying to stay on top of credit union issues, because if she was in any way on top of the issues, if she even read our NCUA report once a month, she would know that this is an issue that affects her credit union. So I think that the people who run these credit unions need to take some responsibility also for getting information and not just rely on us to make sure that in fact they have the information. We basically know which are the home-based credit unions and we think we know how many there are, but they don't necessarily have to self-identify that on the call report.
If these home-based credit unions have the wherewithal and the desire to grow and to serve as many members as possible, then they can find commercial space or other space that's publicly available. But being in their home is, in many cases, a credit union that has not grown and does not offer many services. I feel very strongly that examiners are not going to be going into another person's home. There are safety issues but also protecting the privacy of the data is an issue. For an industry that is growing and becoming more and more sophisticated and is concerned about the reputation of the industry, I don't think that there is any justification for having a financial institution in somebody's home. I really think that those days are over.
CU Times: Many of the home-based credit unions we have interviewed said they could not afford to staff a commercial space each day of the week. How do you respond to those that say they will have to go out of business if this rule is finalized?
Matz: I think some of the credit unions that made those comments are state-chartered and state-chartered credit unions are not affected by this rule – this is only federally chartered credit unions. In some cases, the credit union's manager is being paid a rental income for use of their home, so that could be applied to commercial space. I just think that running credit unions is a business and if they don't have a business plan that can lead to success then they need to consider other options.
CU Times: Some of the larger credit unions that are not affected by the rule have said the rule would take away a piece of the credit union industry's history if credit unions could not operate in homes. Is that a part of history that should be honored or should that not be considered?
Matz: I think that's what it is – history. You know, the buggy whip was useful in its time. It's not useful anymore and I think for financial institutions especially, if you don't change with the times and stay ahead of the curve, you and your members become very vulnerable – both in terms of privacy and in terms of cyberthreats and safety issues. Yes, they were part of the credit union history but we're in 2014 now. Times have changed and financial institutions have changed as well and if you are stuck in the past, that means that you are not growing and you are not serving your members well and they would probably receive better services from a different credit union.
We always get severely criticized every November when our budget comes out because the credit union industry never thinks we are spending their money wisely. We have been looking for ways to be more efficient and more economical and to reallocate our resources so that we are spending our time and resources where the risk is. Having these credit unions in people's homes is not only inefficient for their members but it's not efficient for the regulator either. Ordinarily, I wouldn't raise that but the very people who blast us – they say we are spending too much on our budget – are the same people saying you should go in and examine these little home-based credit unions. You can't have it both ways."