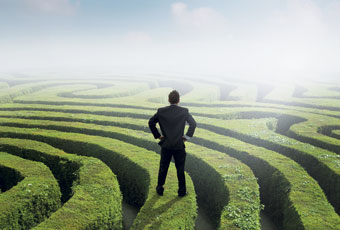 Doing more with less. You've heard the old cliché. It's never been truer than in the last several years for credit union marketers.
Now, as black ink has replaced the red ink on balance sheets, many credit unions are slowly starting to replenish their marketing budgets. But 2013 brings a brand new set of challenges for credit union marketers.
Just because CEOs recognize the light at the end of the tunnel is not a train coming at them doesn't mean that marketing budgets have been replenished to pre-2007 levels. That means it's up to each individual credit union marketer to see this as a challenge or an opportunity.
Reduced budgets have forced many marketers to step back and look at what line items are really responsible for showing results. One credit union went into survival mode and cut their marketing budget by almost 50% in 2009. Many longtime staples of their budget were cut, including television ads.
When they did that, the credit union put a laser focus to drive up the number of products and services for each current member, as well as to attract new prospects. The credit union mined their data for members who had a relationship with the credit union already, but had loans or accounts at other financial institutions. The staff used a combination of targeted direct mail with specific offers and follow-up phone calls.
The results? In that two-year period while many others saw a dangerously low loan to share and member growth, this credit union showed the reverse. Many members were thrilled that the credit union reached out to them with these product offers to save money or time, such as online banking. It added up as they referred friends and family to the credit union.
Lesson learned: It's easy to blanket the marketplace with your message on radio, television, newspaper and billboards when you have a copious marketing budget. However, with a true entrepreneurial spirit, a good marketer can take a smaller budget and put in some sweat equity to produce stellar results.
Aside from budget, credit union marketers are faced with more challenges than ever before. In 2013, the available options are endless. Television viewers are split between traditional networks, cable channels, satellite providers, HULU, Netflix and other online options. Not to mention the secret weapon against advertising, the DVR. Add in social media and other online marketing possibilities and your budget, no matter the size, can be spent pretty fast.
In fact, according to several surveys last year, 75% of people don't even believe ads tell the truth. This is the age of social media where, according to the those same studies, 90% of people turn to friends for brand recommendations and 71% are more likely to buy a product if someone referred it to them on social media.
With close to all consumers depending on recommendations from friends and family plus nearly a clear majority turning to social media for recommendations, marketers have a third challenge facing them in 2013; that's orchestrating a positive experience in every interaction members have with the credit union.
Even the largest marketing budget and the slickest ad campaign, cannot undo the damage done by a bad experience. Nothing can replace the incredible value of providing members with the best possible experience. Think about it, if you went the fanciest restaurant in town and everyone treated you poorly, would you go back? Would you recommend that restaurant to your friends? You might even be tempted to post on Facebook and Twitter just how bad the experience was.
Think member experience isn't worthy of your time and marketing dollars? Based on a study by Harris Interactive, here are some facts: 82% of consumers said they stopped doing business with a company after a bad experience and 79% have told others about their bad experience.
In fact, the top three reasons why a consumer switched brands were interaction with a rude employee, unexpected charge or fee, and poor quality of service. As more consumers turn to social media for recommendations and to solicit their two cents about your credit union, your front line has to be on their "A" game. Time and resources should be spent on defining a consistent member experience, and making sure that it is flawlessly executed.
While for the most part many credit unions are out of the woods and back to a positive balance sheet, the job ahead for credit union marketers isn't one to be envied. With the changes in media and marketing landscape not only do marketers need to be looking to the future, but they have to sell these changes to management, and sometimes even the board. That shouldn't be too hard a sell – if you're working your "A" game too. 
Bo McDonald is president of Your Marketing Co.
Contact 864-230-1923 or bo@yourmarketingco.com