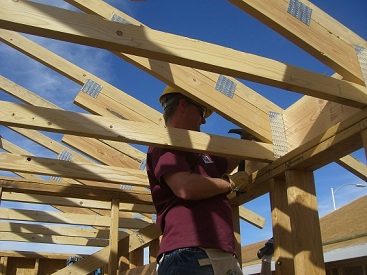 This year, 37 senior advisers with CUNA Brokerage Services Inc. helped build a home for the Las Vegas Habitat for Humanity and after the build contributed a total of $4,500 to charities. The advisers who chipped in money and time, make up CBSI's Senior Advisor Leadership Team and call themselves the "Give Back Group." The Give Back Group was established in 2008 as part of CBSI's annual financial adviser meeting.
"Every year we have a national senior adviser leadership team conference, and every year the first day is always a give back day," said Jim Metz, CBSI president and CEO. "I'm just happy to be able to work with a group that would take the time to give back like they do. It really reflects the credit union model."
This year, the group chose to help build a home through Habitat for Humanity in Las Vegas. Eighteen senior advisors and their spouses helped build the second story of a new house, Metz said. Building materials and equipment were provided by Habitat for Humanity.