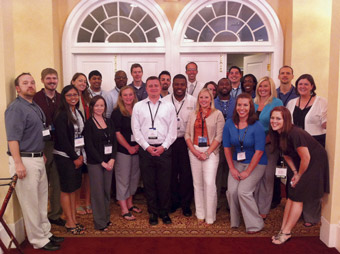 Young professionals across North Carolina have been learning more about credit union history one meet-up at a time, courtesy of CUaware.
Founded in early 2011 by Patrick Livingston, director of strategic projects, and Brandon McAdams, director of lending products at Raleigh-based Coastal Federal Credit Union, CUaware grew from a desire to help build awareness of cooperatives and the credit union difference.
"The underlying idea of CUaware was inspired by a series of training events Brandon and I participated in about the history and philosophy behind the cooperative model and credit unions," said Livingston. "Learning about the movement's impact on society as a historical force for social and fiscal advocacy was eye opening and it made us want to do more. We all get caught up with our daily lives and work, so we wanted to provide a very low cost, easy entryway into the credit union movement."
The result was a networking group, where credit union professionals could get together monthly in a social setting. Their goal: to expand beyond talking through issues and sharing dreams and burdens, to include learning more about the industry they work in and the movement as a whole.
"It was important to us that CUaware would focus on three elements: to learn, share and grow," said McAdams. "We knew the longer we talked about it, the bigger the chance that we wouldn't do anything. So within a few months we worked on the brand value we could offer and hosted the first social."
The monthly events have grown from the initial 12, which consisted primarily of Coastal FCU co-workers and supporters from the North Carolina Credit Union League, to an average of 20 to 30 credit union professionals. In addition, on the CUaware microsite members can find local volunteer opportunities and CUaware recently teamed up with the league to expand its young professional opportunities.
Given the success of its one-day series of educational sessions for young professionals last year, the league tapped the pair to further develop and incorporate a young professional track for its 2012 annual meeting. Some 28 young professionals from nine credit unions across the state attended the track, which focused on how to cultivate ideas within the credit union, advocate for young adults in the workplace, and featured a special panel of credit union leaders who shared their experiences–good and bad. In addition, the young professionals had their own breakout session, where they were part of panel discussion on how to attract, engage and retain a younger membership and employee base.
"We're excited about CUaware. It's good for the movement as a whole and it's been revitalizing the chapter network," said Eric Gelly, executive vice president and chief operating officer at NCCUL. "It's resonating with people and younger professionals are excited about credit unions and doing more in their communities. It's been a good shot in the arm, a reboot of sorts."
Danielle Brummitt, data analyst at Raleigh, N.C.-based Local Government Federal Credit Union, has enjoyed having an additional resource to turn to.
"It's a fun diverse group and the experience is different every time because facts about the credit union history are always shared," said Brummitt. "That understanding of the cooperative principles behind what we do has been huge for me and I don't hesitate to call Patrick, Brandon or anyone in the group when I need information, advice or collaborative partners. A lot of credit unions face the same struggles and we really do have to band together to achieve what we want whether it's legislation or any of our other common goals."
The importance of leveraging the opportunities to talk up the industry's achievements and of teaming up to do more has been what most drives Livingston and McAdams.
"We all can do a better job of sharing burdens, successes and learning from each other," said Livingston. "Younger professionals yearn to be a part of causes that are bigger than themselves and the credit union movement has a lot of things to offer. We included the community opportunities because it's easy to get caught up in our everyday lives. We try to make it easier to volunteer. It's our small contribution and if we all step out of our offices, look at the things we want to accomplish and take action toward that, we're better off as an industry."
Inspired and given an assist by organizations such as the Filene Research Institute and the Cooperative Trust, plans are underway to ramp up the value for CUaware members.