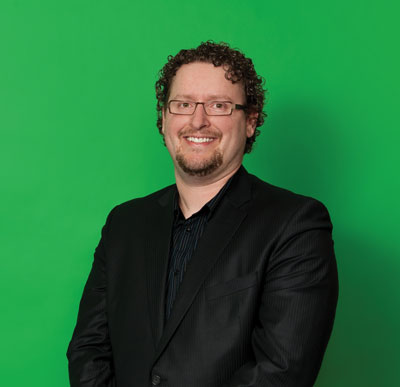 It's been a pretty good year for Devin Selte, senior relationship manager and team leader with $11 billion Servus Credit Union, Edmonton, Alberta.
Not only was he recently named CUES' Next Top Credit Union Exec but along the way he's discovered a new passion: developing people.
"I will actually be moving to a new position in December in the human resources department as a corporate trainer, leadership development," said Selte. "This is all thanks to the Servus Young Leaders Network and the CUES Next Top Credit Union Executive."
In its second year now, the Next Top Credit Union Executive competition was created in partnership by CUES and Currency Marketing, as an outlet for the voices of the next generation of credit union professionals under the age of 35 to be heard. A field of 24 applicants was whittled down to five finalists through a three-part scoring process that included a panel of judges, audience voting and online voting.
Since being selected to represent Canada this past June, Selte has been talking up his project, Servus CU's Young Leaders Network via blog and video posts.
Beyond showcasing participants' key achievements, the Young Leaders Network provides mentorship and shared learning opportunities while creating a unified group of future leaders who truly believe and understand the cooperative nature of credit unions.
"It's funny. I'm glad that I didn't make the cut last year when I tried out for this because at the time the Young Leaders Network was still in its early stages," said Selte. "When I got to Vegas, I was excited to finally meet the other competitors. We've all been able to interact online, but it was great to meet them all face-to-face. I was also relieved because my family has sacrificed the most by allowing me time to write blogs, make videos and prepare for the final presentation. I felt that all of that hard work and sacrifice was now coming to fruition."
He added that going into the announcement he felt regardless of the outcome he had done everything he wanted to do as far as his final presentation and soliciting online votes.
"While nervous [and] excited, it was more of a night before your birthday feeling rather than the night before Christmas feeling," said Selte. "I truly felt I had left everything on the table, and what ever happened, happened. I was just lucky to have my name called."
During his final presentation at the CUES CEO/Executive Team Network conference in Las Vegas, Selte provided suggestions for how credit unions of any size could implement similar programs of their own.
"You cannot describe the impact to a young person by giving them a stage to showcase their ideas, talents and abilities," said Selte. "I really felt like by sharing my project, I was becoming more engaged with the credit union system as I was contributing to the success of it. Many believe that our generation does not have the work ethic that our parents or grandparents have. I disagree with that. Just take a look at the finalists. They are perfect examples of the best hard working young leaders that the credit union system has to offer."
Rounding out the top five finalists selected to make their presentations to attendees were Jay Hansen of $9.5 billion BECU, Seattle; Alexia Mavrakes of $190 million Aspire Federal Credit Union, Clark, N.J.; Josh McAfee of $142 million Leaders Credit Union, Jackson, Tenn.; and Amanda Thomas of $48 million Members First Credit Union, Columbus, Ohio.
In addition to the title of Next Top Credit Union Exec, Selte has been awarded a $20,000 educational prize package, which he said will only be a boon for his new HR role.
"I think the win continues to validate what our message has been from the get go, we need to foster the growth of our young leaders for the future success of credit unions. We can all talk about how we are focusing on young leader development but it is programs like the Servus Young Leaders Network that are truly making that happen," said Selte. "I hope that more credit unions get in touch with us so we can share our experiences in developing our program and assist in making others successful. For me, as I move into my new position in leadership development, the courses provided through the CEO Institute programs will help in developing me as leader within Servus Credit Union and the credit union system."
He's already been contacted by young professionals in Canada, the United States and Australia interested in creating a network at their credit union. So far he has also helped a credit union in Alberta by providing Servus' Young Leaders Network's mission, vision and constitution.
"We've also been having conversations through email and phone calls," said Selte. "I'm proud to say they just launched their program in early November and to be able to support them has been incredible. That is what credit union collaboration is all about. Young leader development can have many different looks. It can be a large program like the Servus Young Leaders Network, or as simple as setting up mentorships for your young people."
He added that credit unions interested in seriously recruiting young talent need to look for key differentiators in the financial industry that set them apart from other employers.