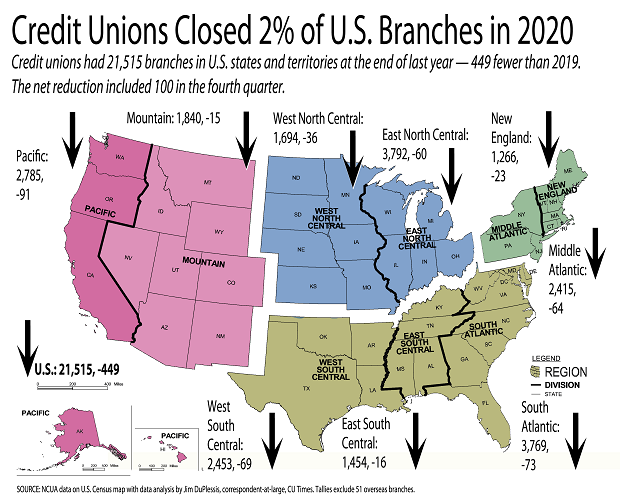 Credit unions in California and New York have announced expansion plans this month, even while the number of branches fell last year.
Branches have been declining among banks for several years, but the trend hit credit unions last year.
A 12-month decline in branches became evident after NCUA released third-quarter data in December, and its March 4 release of fourth-quarter data showed the trend continued.
Credit unions had 21,515 branches in U.S. states and territories on Dec. 31, 449 fewer than a year earlier. They also had 51 branches overseas. Branches had risen slowly in 2017, 2018 and 2019, with a net gain of 182 branches in the states and territories.
Last year's decline includes the net loss of 100 branches from Sept. 30 to Dec. 31, hinting that the earlier decline was not just a consequence of the early months of the pandemic.
Across the country, all Census divisions had declines that varied little from the 2% average drop nationwide. The Pacific states had the largest net loss of branches, a 3.2% decline, and the Mountain states fared best with a 0.8% drop.
Among states and territories, 35 showed declines, 13 showed increases and six had no change.
New York had 1,056 branches on Dec. 31, 36 fewer than a year earlier.
Mid-Hudson Valley Credit Union announced March 9 that will open a branch in Peekskill, N.Y., this fall. The branch is the result of the credit union gaining NCUA approval in late 2019 to expand into Westchester, Putnam, Sullivan and Rockland counties.
Peekskill is on the east side of the Hudson River about 50 miles north of Times Square and 50 miles south of Mid-Hudson Valley Credit Union's headquarters in Kingston, N.Y.
The credit union had 13 branches at the end of 2020, unchanged from a year earlier. Its assets last year grew 17.8% to $1.3 billion, and its membership grew 2.5% to 82,498.
The branch will be the first for Peekskill and the 31st for Westchester County, which is served by 20 other credit unions.
Peekskill was an early manufacturer of iron products, and perhaps its best-known company is the maker of Crayola crayons.
The credit union's news release said it has "worked closely with the leadership in Peekskill to design a building that compliments the area's architecture and history. Convenient access is a primary concern, and the new location will sit directly in downtown Peekskill between two main streets that lead in and out of the city."
California had 1,596 branches on Dec. 31, 60 fewer than a year earlier.
Credit Union of Southern California had 19 branches at the end of 2020, down from 20 at the end of 2019. Its assets grew 20.3% to $2 billion, and its membership grew 1.4% to 122,739.
This month CU SoCal announced it has opened new full-service branch in Fontana, a city 40 miles east of its Whittier, Calif., headquarters and 60 miles east of Los Angeles.
"This branch is different than most, however, because it is shared with two other credit unions," its news release said.
It's being called the "Credit Union Center," with employees serving members CU SoCal, Pacific Transportation Federal Credit Union of Gardena, Calif. ($72.1 million, 6,763 members) and Printing Industries Credit Union of Riverside, Calif. ($28.9 million, 3,922 members).
CU SoCal also shares space with Pacific Transportation FCU (PacTrans) at its Fullerton, Calif., branch.
"Credit unions are financial cooperatives and as such we follow a unique set of principles," CU SoCal President/CEO Dave Gunderson said. "One of those principles is 'Cooperation Among Cooperatives.' We do this by working together as credit unions for the financial well-being of our members and the community."