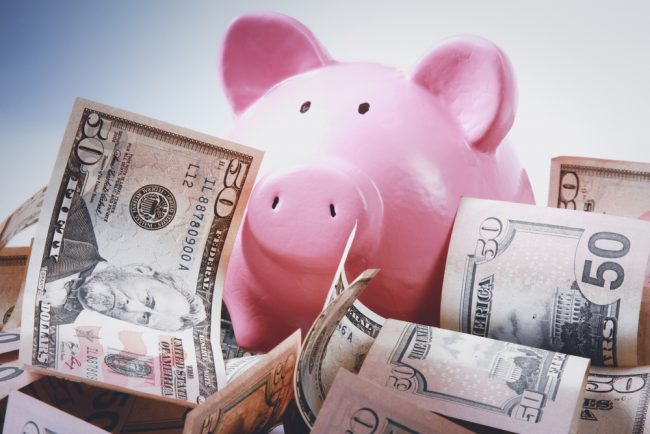 COVID-19 drove consumers to deposit money into their financial institution accounts in droves – bringing in about $3.4 trillion to commercial banks, savings banks, fintechs and credit unions since the beginning of the pandemic. And around 30% of those funds went into checking accounts, with credit unions receiving the smallest pile, according to new data from financial institution research firm Moebs $ervices.
According to the Lake Forest, Ill.-based company, commercial banks have received 61.3% of checking account deposits during COVID, followed by savings banks (thrifts) at 26%, other types of depositories (mainly fintech firms) at 7.9% and credit unions at 4.8%. The firm said commercial banks fell short 20% compared to their typical influx of new money, while savings banks and fintechs gained more than their usual shares of new money (which are 13% and 3%, respectively), and credit unions fared the worst.
"Severely concerned about preserving capital – more so than banks – credit unions fell 40% of what they would normally get in new dollars," Moebs Services CEO and Economist Michael Moebs said. "All depositories won, but savings banks and fintechs exceeded expectations, capitalizing on the influx of COVID money."
Moebs $ervices also broke down where consumers deposited their money during the COVID-19 pandemic across all financial institutions by account type. Seeing the biggest increase in deposits were interest-bearing checking accounts, with a 67.9% jump; institutional money market mutual funds with a 40% jump; non-interest-bearing checking accounts with a 34.4% increase; IRA and Keogh retirement accounts with an 18.6% increase; savings and share accounts with a 15.6% jump; and retail money market mutual funds with a 13.1% jump.
Certificates of deposit came in last on consumers' lists of the types of accounts they chose to deposit their COVID funds into, according to the firm. Jumbo CDs received 9.2% fewer deposits than usual, and retail CDs saw a 24.6% drop in deposit dollars. Moebs $ervices noted the popularity of checking accounts was due in part to consumers and businesses wanting easy access to their funds, as well as savings banks and fintechs offering appealing rates.
"Savings banks and fintechs maintained their interest rates at pre-COVID levels before gradually reducing [them]," Moebs said. "As the Federal Reserve quickly dropped Treasury bill and bond rates, banks and credit unions followed in lock step. Savings banks and fintechs were slower to reduce rates, offering their current and new customers higher interest than market prices."
He continued, "In addition, savings banks and fintechs saw many consumers and small businesses were panic stricken, seeking liquidity and easy access to funds. So, they offered interest checking starting at 0.25% and much higher rates for more funds in higher tiers or tranches. Banks and credit unions on average were 0.05% as the FDIC and Moebs $ervices Rate Surveys showed."