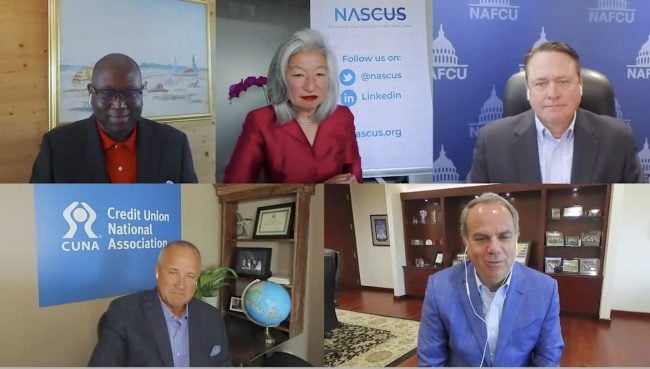 In a panel discussion during CUNA Mutual Group's virtual Discovery 2020 conference Thursday, NAFCU President/CEO B. Dan Berger, NCUA Chairman Rodney Hood, NASCUS President/CEO Lucy Ito, CUNA President/CEO Jim Nussle and CUNA Mutual Group President/CEO Robert Trunzo opened up about how they've been adjusting to a new way of doing business since the onset of the COVID-19 pandemic in March.
Like at many credit unions across the country, the initial shock of the pandemic's arrival in the U.S. was quickly followed by event cancellations, upended travel plans and a sudden shift to a remote workforce at the leaders' organizations.
"We were about to hold a state regulator meeting in New Orleans," Ito recalled. "It was supposed to be March 17th. We cancelled it about five days … I guess it was about a week before. The world stopped. Fast forward to today with everything else that has happened, [it's been] just incredible, as all of us experienced switching to a teleworking mode almost overnight."
Berger and Nussle noted their pre-pandemic investments in remote work proved to be valuable. "Several years ago, we invested heavily in technology. We turned the switch and really went 100% remote. The NAFCU board gave us permission to invest heavily in this. It wasn't for pandemics per se, it was actually for weather-related situations," Berger said, adding that he foresees NAFCU continuing to work remotely and hold virtual events through the end of 2020.
"There's no question that we were prepared for this in the way that many have already stated," Nussle added. "We already work remote. Much of our strategy is remote as we work together with our partner leagues across the country, and so we already communicate remotely, work together remotely and advocate in a very remote setting, nationally as well as at the state level."
Trunzo noted the importance of disaster recovery drills that prepare organizations for major events, even if they at one time seemed absurd. "I can recall a couple years ago doing a major exercise at CUNA Mutual, and the exercise was really around cyber. All of a sudden, halfway through the exercise, someone comes in and says, 'My gosh, our workforce is getting sick. Something's going to happen. There's a virus. There's an illness.' We all push back from the table and said, 'Oh come on. This exercise is getting absolutely ridiculous, right?' Well, here we are."
Leaders recalled that the convergence of demanding work schedules, driven by the need to assist credit union members with Paycheck Protection Program (PPP) loans and other forms of financial relief, with concerns around employee mental health and boundary-setting for newly remote workers, posed a challenge at the onset of the pandemic.
"Anxiety was high for staff," Berger recalled. "We did a survey of staff [asking], how do you feel? How comfortable are you coming back? What timeframe are you looking at? We had our FAQs out there answering the compliance questions, but our focus was the safety of our staff, because that's our most valuable asset. That was our entire focus, to take care of them, so they, in turn, can take care of NAFCU members."
Hood noted that some credit union leaders felt compelled to work especially long hours to secure PPP loans for their business members, however. "The CEOs and CFOs of some of these credit unions saw such a value that they wanted to help their member owners have access to small business lending opportunities, that they worked 24-hour shifts leading up to that," he said. "Now, I'm not advocating 24-hour shifts, but what I am advocating and just sharing for you all, is that there was this collegiality and this collaborative approach for saying, 'Hey, we need to be there for our members when they need us most.'"
Panelists agreed that the shifts created by the pandemic, namely the increase in virtual interactions, has in some ways benefitted credit unions in that it has forced them to fast-track digital banking as well as strategic and business planning.
"This pandemic has accelerated strategic plans and business plans," Berger said. "So if [credit unions] had plans in the next three to five years to change the technology platform to go contactless and frictionless and things along those lines, this has accelerated that. They had to pivot, and what was supposed to occur over a period of years has shrunk to a period of months, sometimes weeks."
Ito added another silver lining of the pandemic was it enabled virtual examinations to take place remotely. "Examiners were forced to work remotely and conduct exams virtually," she said. "That definitely accelerated the offsite approach to examination, and what a relief, really, that both credit unions and regulatory bodies were able to move forward."
And, Hood emphasized the strength of the industry as a whole has served credit unions well during the crisis.
"Credit unions came into COVID with a very strong financial posture with over 11% net worth, well above the 7% statutory requirement, and more than satisfactory liquidity sources," Hood said. "We are much better positioned for the headwinds than I would say during the great recession of over a decade ago."