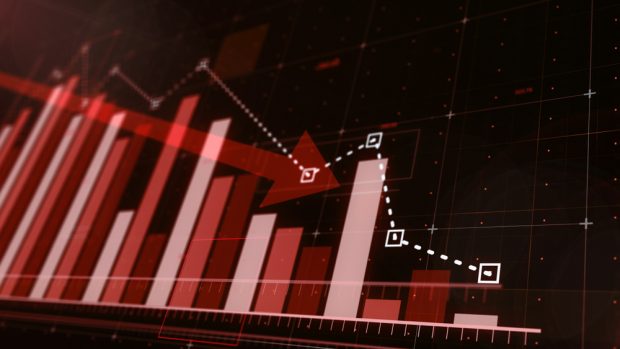 Credit union loan balances are expected to grow well below long-run average rates through 2021, one of the many adverse impacts of the financial crisis that has resulted from the COVID-19 pandemic, according to a new report from CUNA Mutual Group.
The "Credit Union Trends Report" found that the loan balances rose just 0.1% in April, the first full month of the pandemic. They are expected to increase by only 3.5% through the end of the year and 5% in 2021, compared to the average rate of more than 7%, driven largely by low consumer confidence and high unemployment rates, the report showed.
"With loan balances growing slower than savings, credit union liquidity is loosening up," this month's report stated.
According to CUNA Mutual Group, nominal consumer spending plunged 13.6% and long-term interest rates decreased 21 basis points, as businesses laid off 20.7 million workers due to widespread pandemic-related shutdowns.
Steven Rick, CUNA Mutual Group's chief economist, said in a recorded statement that the adjusted unemployment rate for May registered about 15%, more than 50% higher than at the peak of the 2008 financial crisis. The economy, he said, contracted at about a 30% annual rate in the second quarter, but he forecast economic output to rebound with a 20% jump in the third quarter of 2020.
For credit unions, CUNA Mutual Group found nearly all loan categories declined year-to-date in the first four months of 2020. The one exception, fixed-rated first mortgages, grew at a 33% seasonally-adjusted clip in April, the fastest spike in credit union history, Rick said.
"Why so fast?" Rick asked. "Because of very low interest rates and a lot of refinancings taking place. Deposits also surged – increased 5% in April, due to those stimulus checks being paid out – also because of low gas prices, people staying at home, not spending, the volatile stock market, people putting their money into a shared deposit at a credit union and not into the stock market."
CUNA Mutual Group expected ultimately for credit union lending and membership growth to slow through the remainder of 2020, as the economy starts to bounce back, and Rick encouraged credit unions to begin spending and put off payments on some loans.
"We have a strong capital position," he said. "That, of course, is our members' money and their insurance. And it's time to use that and basically allow for a little forbearance on some loans, waiving some fees, in order to increase the trust and loyalty of our members so that in the long run we can increase their wallet share and increase the long-run health of the credit unions."