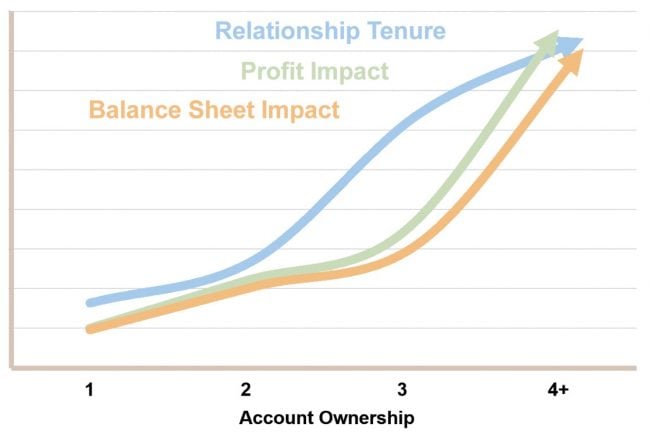 Consider the choices that are made every day. Regardless of the purchase, brands have a way of entering an individual's life. Successful brands convey meaning and when a brand becomes part of a routine, a preference is born and loyalty is established. Incumbency matters. Incumbency accrues advantages.
The initial purchase only establishes a connection to a brand. Repeat purchase establishes a connection with a brand, and a connection with a brand offers the momentum to establish preference, and with it, loyalty. As a result, this innocuous notion regarding incumbency is a quantifiable exercise.
Transactional Versus Relationship Purchasers
Examining the relationships that members maintain with a credit union is a revealing study. By overlaying tenure across the account ownership spectrum, the behavior of a member can be discovered. The result of this analysis illustrates a dichotomy between transactional purchasers and those that maintain a relationship with the brand.
Moreover, the path to loyalty is revealed with the purchase of the third balance sheet account. These members have expressed a connection with the brand, and loyalty is witnessed as tenure advances two-fold. Furthermore, members with brand loyalty express a willingness to further broaden their relationship with the credit union. Because of this predisposition among loyal members to purchase additional products and services, relationship purchasers are responsible for the preponderance of the average credit union's revenue stream, balance sheet and earnings. These are the advantages accrued by incumbency.
The Path to Balance Sheet and Earnings Expansion
At the average credit union, greater than three in five relationships are defined as transactional purchasers. Therefore, the advantages associated with incumbency are lost among the majority of a credit union's member base. Without an established brand loyalty among the majority of its member base, the credit union is hampered by churn or attrition among transactional purchasers. The culprit is the glacial pace by which a relationship is developed. On average, more than a decade is required for a community-based credit union to acquire the loyalty that drives a third account relationship with a member. As a result, transactional purchasers are no longer present in the credit union's member file. To halt churn and improve member stability, compressing the sales cycle to acquire loyalty is an economic necessity.
Creating Brand Preference
Transactional members present each credit union with its most significant opportunity. By more effectively meeting the specific needs of each member, the credit union can create brand preference and loyalty. Developing a relationship with transactional purchasers represents the most direct path to balance sheet and earnings expansion. With an average of three quarters of new account openings derived from existing members, activating latent purchase intent among transactional members represents an opportunity to lift sales substantially and capture lifetime relationship value, which provides sustained benefits.
Member intelligence is all that is required to direct a share-of-wallet strategy. Begin with demographic information to enrich your understanding of each member's life stage. Utilize the acquired knowledge to define the market basket of financial services and determine purchase intent. Then, connect with members in a relevant, meaningful and personalized manner across the touch point platform.
Leverage Incumbency
Incumbency is either leveraged or lost. The path to revenue, balance sheet and earnings expansion lies in leveraging the member file. Facilitating loyalty among transactional purchasers is all that is required. Personalized share-of-wallet strategies are the gateway to relevance, compressing the sales cycle and driving results. Utilize incumbency to create advantage.
This is the second in a three-part article series offering a prescriptive path to building competitive advantage by recognizing that smart data is the currency of business. Read the first installment here and look out for the next one on June 5.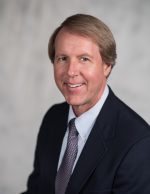 Tom Long is the Founding Manager of The Long Group, a Merrimack, N.H.-based strategic planning, marketing and analytics firm.