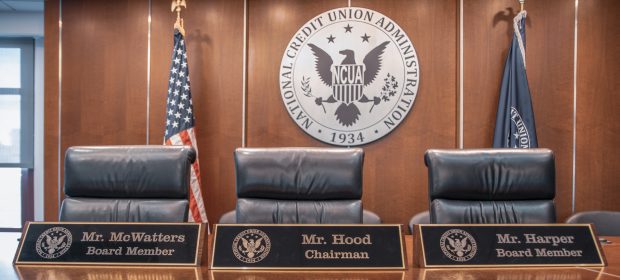 During Thursday's NCUA board meeting, an interim final rule concerning overdraft policies presented by Chairman Rodney Hood failed to pass.
In a 2-1 vote, the defeated overdraft policy would have modified the 45-day requirement "for a member to either deposit funds or obtain an approved loan from the FCU to cover each overdraft." The modification was to drop the 45-day limit and replace it with a requirement "that the written policy must establish a specific time limit that is both reasonable and applicable to all members."
Board members Todd Harper and J. Mark McWatters went on record saying that they believed the final rule was being rushed through the normal process.
Harper said, "This rulemaking is being rolled out under a sketchy administrative process." Both Harper and McWatters appeared to have big problems with the fact this was a final rule being presented to them and it would have gone into effect immediately. Instead, they would have at least preferred a proposed rule with a comment period before deciding on a final rule.
In a statement after the board meeting, Hood said, "While it is rare for an open Board meeting to include an item that does not pass, it does occasionally happen." It's expected that Hood will bring up the issue again during a future board meeting.
The board was presented with the most recent Share Insurance Fund (SIF) update as of March 31, 2020. The highlights included:
SIF total assets of $17.6 billion, compared to $16.7 billion as of Dec. 31, 2019.
SIF ending reserve balance of $177.7 million.
Number of credit union failures incurring a loss to the SIF: 0.
Eugene Schied, NCUA's acting CFO, was clear to point out that these latest numbers do not reflect any real impact to the SIF from the economic crisis caused by COVID-19. "We don't yet see any significant change to the Share Insurance Fund – we are on pretty solid footing," he said.
Schied warned the board members that they won't really be able to understand the impact on credit unions and the Share Insurance Fund until Q4 of 2020 or even Q1 of 2021.
Read and download the full Share Insurance Fund report here.