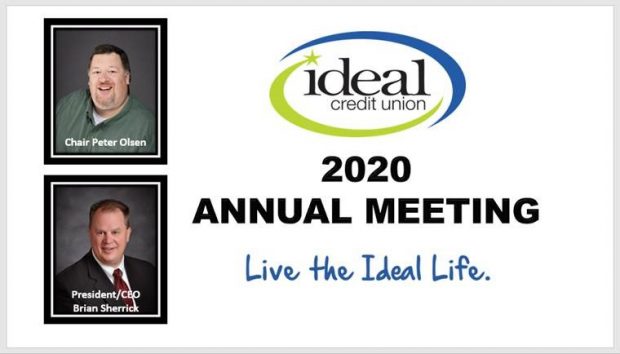 The $791 million Ideal Credit Union in Woodbury, Minn., said its 94th annual meeting held via a webinar format last month attracted a record attendance of 448 members and guests who participated from the safety of their homes.
Ideal CU has offered a remote option for members to attend its annual meeting since 2016, and it was one of the first in the state to embrace a virtual option.
Last year, 120 attended Ideal CU's annual meeting via a webinar, while 154 attended the event in person at a local venue for a total attendance of 274. And in 2018, a total of 239 members attended the annual meeting with 135 in person and 104 on the webinar.
"Because of the pandemic, we cancelled the in-person annual meeting and transitioned to an all webinar annual meeting, which we had experience in doing so we were very well positioned to just make that switch," Ideal CU Marketing Communications Manager Cindy Kurtz said. "We had a wonderful response from our membership. It was just a really good event for us."
In 2016 and 2017, Ideal CU used the WebEx Event Center for its remote option but only utilized the audio capabilities to enable members to listen in. In 2016, 113 attended the annual meeting in person and 104 listened via remote audio, and in 2017, 178 attended the annual gathering and 74 listened in.
Before Ideal CU held its annual meeting in April, members were encouraged to submit any questions they wanted addressed by the board and executive team.
"A number of members did submit some very good questions that we incorporated into the annual meeting agenda regarding what the credit union was doing in response to COVID, the financial stability of the credit union and the NCUA insurance," Kurtz said.
Ideal CU Board Chair Peter Olsen and Ideal CU President/CEO Brian Sherrick reviewed the credit union's highlights of the past year and assured members Ideal CU is well-positioned financially to withstand the current economic downturn.
Because the annual meeting is an important event, Kurtz hopes that the webinar format will attract even more members, particularly younger members, to attend next year's gathering.