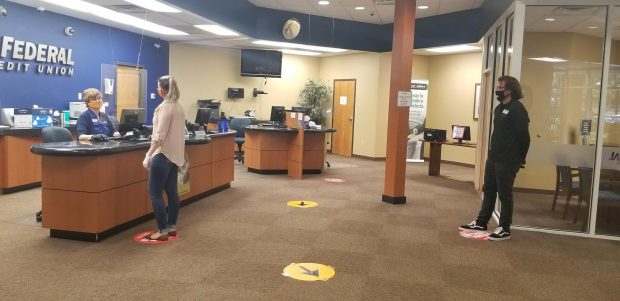 On Wednesday, Jax Federal Credit Union announced it reopened its branch lobbies to members.
The Jacksonville, Fla.-based credit union has nine branches located in and around the Jacksonville metro area and while the branches are open, members should expect a different way of doing business than before the pandemic.
In a statement, Interim President/CEO Mary Svoboda said, "The branch experience will feel quite different than before, but our commitment to creating an exemplary member experience has never been stronger."
According to information from Jax, the branches will operate according to current health and safety guidelines set by the State of Florida, Centers for Disease Control and the World Health Organization.
The credit union announced new policies for branch activity:
Staff members will wear face masks and/or provide service from behind clear acrylic barriers.
Branches will have posted guidelines for maximum occupancy that reflect social distancing guidelines. Members may be asked to check in, then wait in their vehicles during peak times.
Hand sanitizer will be available for members at all branches.
New floor signs have been installed to direct members on where to walk and wait for service.
Common areas, such as coffee stations and check desks, will be closed to members for the time being.
Surfaces within each branch will be sanitized throughout the day, followed by a thorough cleaning each night.
Sanitized and used pens will be stored in clearly identified, separate cups.
Members are strongly encouraged to limit visits only to those whose presence is necessary for the transaction; young children must be accompanied by an adult at all times.
According to Jax, members are encouraged to wear masks when visiting the branches.
"The health and well-being of our members and employees remain a top priority," Svoboda said. "We appreciate our members' understanding and kindness as we navigate how to best serve the community during this challenging time."
Florida's stay-at-home order went into effect on April 3 and expired on April 30.
Earlier this month other credit unions announced plans to start reopening their branches. Redstone Federal Credit Union opened its branches in Alabama and Tennessee, and Alaska USA Federal Credit Union opened branches in Alaska, Arizona, California and Washington.
Jax has more than $415 million in assets and serves nearly 38,000 members.