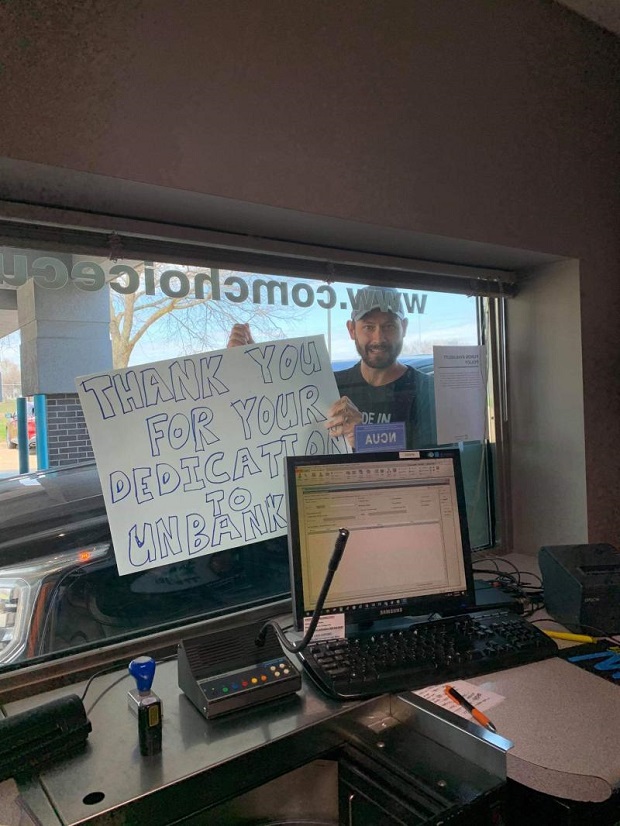 It's a small gesture of employee appreciation. Yet, in a big way it can lift the spirits of frontline employees who work every day under these tense and uncertain times to serve members who, like credit union employees, are managing the daily stresses and anxieties caused by the coronavirus crisis.
Recently, branch employees at the $913 million Vibe Credit Union in Novi, Mich., and the $550 million Community Choice Credit Union in Johnston, Iowa, received a pleasant surprise when they spotted their own CEOs, Allan McMorris of Vibe and Josh Cook of Community Choice, standing outside near a teller window holding a placard expressing their appreciation for their employees' dedication during these difficult days.
"Allan, during normal circumstances, is in our branches all the time visiting with us. Every employee feels like they kind of know Allan," Tracy McQueen, a universal branch manager at Vibe, said. "He likes to come out to the lobby and hang out with members."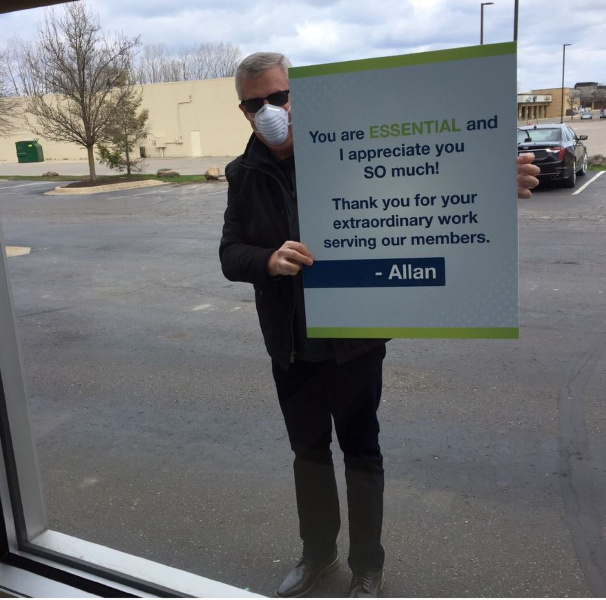 Because of social distancing requirements and branch lobby closures, McMorris has not been able to make any of his customary visits lately.
"He wanted to do this as a surprise, and we were definitely surprised," McQueen said. "It was really nice."
McMorris' placard read: "You are essential and I appreciate you so much. Thank you for your extraordinary work serving our members. – Allan"
He held up his sign of appreciation at the credit union's 14 branches that are operating their drive-up services.
Employees at the seven branches and two offices at Community Choice saw their bearded CEO standing in the rain near the drive up window holding up placards that read: "Thank you for your dedication to UNbanking," and "You are a very important part of this amazing #oneteam."
The employee appreciation idea popped into Cook's head while he saw his daughter drawing on a canvas. Community Choice brands itself as an UNbank because it means doing things that big banks won't do.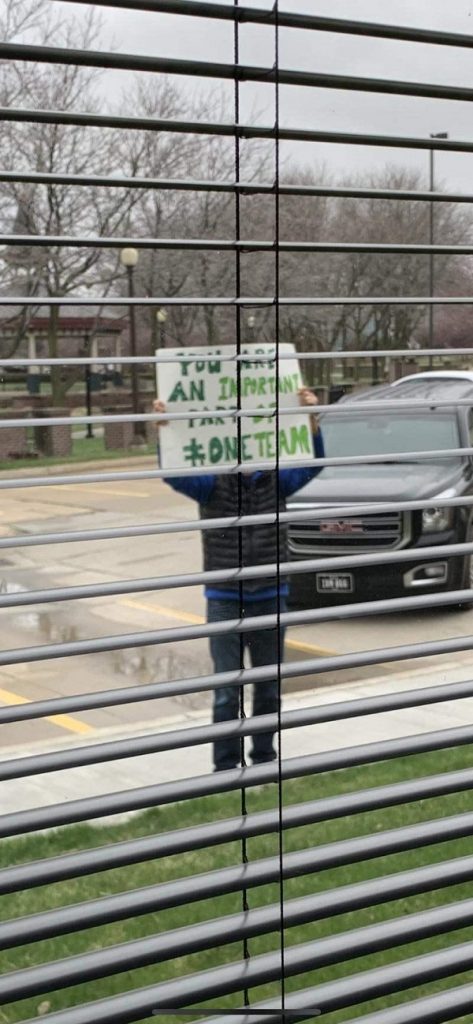 After all, can anyone imagine JP Morgan Chase CEO Jamie Dimon standing in the rain at a drive-up window holding a placard thanking his frontline employees?
"I guess holding up a sign at the drive-up for me is just being different," Cook said. "That's just who we are as a credit union."
After Cook's placard pictures appeared on a LinkedIn post, it drew dozens of comments and received more than 560 emoji signs of thumbs up, hearts and hands clapping.
"Josh that's awesome and I'm borrowing it. I was visiting the branches until we felt cross contamination could be a concern. Man you rock!" Tim McLeod, president/CEO of the $189 million Riverfront Federal Credit Union in Reading, Pa., wrote
Perhaps the most revealing observation came from Kevin Stoffell, a strategic partner and business advisor for an employee development firm in Littleton, Colo., who wrote: "People don't care how much you know until they know how much you care."