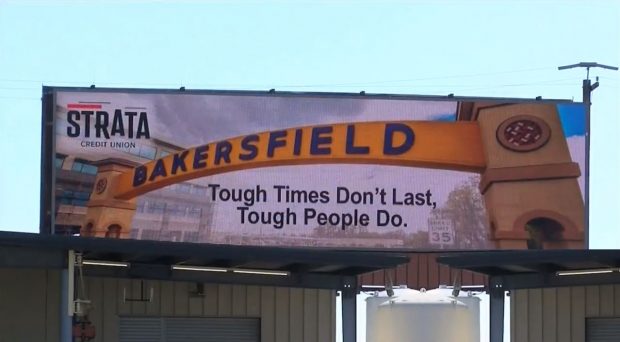 "Tough Times Don't Last. Tough People Do."
This simple message of hope, now appearing on Strata Federal Credit Union billboards, has united and inspired the California blue-collar city of Bakersfield, which like many communities across the nation, is struggling with the uncertain and unsettling economic and health hardships of the coronavirus crisis.
"California and our community truly were in a state of panic. The hoarding had already begun and we were worried about everyone around us," Michelle Garland, marketing manager for the Bakersfield-based credit union, said. "We knew people weren't paying attention to product [marketing] and things like that. They were worried about their families. And so, we wanted to change our message to inspire people to remember that we've had tough times before and we've gotten through it."
The billboards feature the iconic image of the huge Bakersfield steel arc sign that spans over a road leading the city's downtown business district. Superimposed under that sign are the words: "Tough Times Don't Last. Tough People Do."
After this message first appeared on about 19 billboards across the city on St. Patrick's Day, it definitely hit the community's chord in positive ways. The credit union's social media sites exploded with thousands of views and likes, hundreds of shares and dozens of positive comments. The community's accolades kept coming a few days after March 17 when a local news station, KGET-TV 17, broadcast a brief story about Strata's billboards and how they lifted the community's spirits during the challenging times of the coronavirus crisis.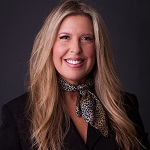 Using the same billboard message, the $266 million Strata also produced a television commercial in English and Spanish to make consumers aware their branches are open and that the credit union is prepared to support the community and help its 20,224 members with their financial hardships.
"This is a real blue-collar community, so I thought the message was going to resonate, but I don't think anybody could have expected how much it has really taken off," Strata President/CEO Brandon Ivie said.
Just like all communities across America, restaurants, bars and other retail stores in Bakersfield have been hit hard by the coronavirus shutdown.
However, Bakersfield has another problem that will deepen the city's economic struggles.
Bakersfield is the largest city in Kern County, which is one of the top oil producing counties in the nation and is California's oil capitol. The county is bracing for additional job losses after oil prices sharply declined because of a production dispute between Russia and OPEC (Organization of the Petroleum Exporting Countries).
That is good news for consumers who will be paying less at the gas pump. But lower oil prices mean less profitable revenue for Kern County oil producers, making it more difficult for them to stay in business.
"We know the last time when oil [prices] plummeted about three, four years ago, there were a lot of layoffs here in the oil industry, so we anticipate that coming again with everything else that's going on," Ivie said.
Nonetheless, Bakersfield managed to get through that difficult time because its tough spirit prevailed, and there's every reason to believe it will continue through the current crisis.
As a person commented on Facebook about Strata's billboard, "Positivity is always a good thing."