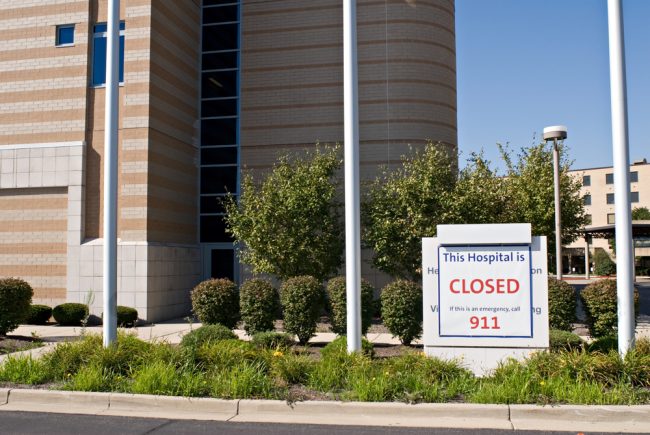 No one really enjoys going or being admitted to the hospital. So, if you're completely healthy and hate hospitals, then the trend we're watching around the country is great news! For instance, let's look at the great state of Kansas where, according to the National Rural Health Association, 48 rural hospitals have closed since 2010 and nearly 300 more hospitals face threats of being shut down. If you take a look at a broader lens, the NRHA believes almost 700 rural hospitals are "vulnerable or at risk for closure" in the very near future.
See? No hospital, no need to worry about going.
There are several factors contributing to this problem, including a decline in the rural population, and the fact that subsidized health insurance doesn't cover as much as it did and the rural population tends to face much higher deductibles.
The most recent hospital data comes from a 2017 report from the Center for Disease Control. That report states that Americans living in rural areas are more likely to die from the five leading causes than those of us who live in urban areas. As a reminder, the five leading causes of death are: Heart disease, cancer, unintentional injuries, chronic lower respiratory disease and stroke.
At the time of the report's release, CDC Director Tom Frieden, M.D., M.P.H. said, "This new study shows there is a striking gap in health between rural and urban Americans." He continued, "To close this gap, we are working to better understand and address the health threats that put rural Americans at increased risk of early death."
Currently, about 46 million Americans, or roughly 15% of the country, live in rural areas, according to the CDC. One of the more interesting bits of information from the report, to me, came with this statement, "Some rural areas might have characteristics that put residents at higher risk of death, such as long travel distances to specialty and emergency care …"
Which brings me back to this incredibly light-hearted topic of rural hospitals closing – because I do see such an incredible opportunity there for credit unions.
We've reached such a strange point in our country's history where formally-funded things, like our community parks, streets, utilities and schools, now rely on our help to exist. I realize I'm going down a path to a discussion of the pitfalls of the privatization of a lot of our community functions, but I'm not going there.
Where I am going begins with an observation I had concerning Nusenda Credit Union, based in Albuquerque, N.M. ($2 billion in assets, more than 180,000 members). More than a month ago, the credit union was featured in the Albuquerque Journal for its decision to create a more family-friendly policy for employees. According to an interview with Michelle Dearholt, Nusenda's chief retail and performance officer, the credit union crafted a policy solution that allowed for a more flexible paid parental leave program for employees. Yes, it saved some money on training costs, but it was also the right thing to do for employees.
There's no database for calculating credit union sponsorships that happen all across the country. CU Times gratefully receives so many of these announcements each week. Credit unions are giving money to some wonderful causes, including the renaming of a high school stadium so the school can make repairs to the track (California), a symposium to empower women (Florida), community music programs (Maine), agriculture and food programs (Pennsylvania), and so many needed scholarships delivered to graduating high school students (every state?).
While credit unions make grants and donations to some local homeless shelters and mental health facilities – typically in the form of golf tournament proceeds – there seems to be an even greater need for a grassroots effort to support our hospitals.
As a kid who grew up in rural Arkansas, my family was familiar with the need to travel an hour or more to get to a hospital with an actual emergency room. And that was in the 1970s when it was considered a hassle to put on a seat belt.
In looking at a map of hospitals located in rural communities around the U.S., there is an obvious Venn Diagram of overlap with the fields of membership of hundreds of credit unions in Kansas, Texas, Alabama, Georgia, New York and more.
Having served on a community giving committee, I understand how difficult it is to focus and/or divide a limited pot of money to the places where it would do the most good. I'd argue that at this point in our history, it's time for credit unions to skip the sponsorships of national or university sports teams and divert that money into hospital or community clinic sponsorships. Can you sponsor a hospital? Why not. Several hospitals, including the one my mom frequents in Massachusetts, has full pre-natal care and cancer units paid for by wealthy families or foundations.
One thing that has always drawn me into the attractiveness of credit unions is the approximation they have to fill a community need. Having served on that previous community giving committee I mentioned, which was at a large corporation, it was not nearly as nimble and creative as credit unions have shown to be.
There is a crisis in our country. Let's be honest, there are thousands of crises. And I do believe in my heart that this national health care crisis of hospitals and birthing centers closing can be massively helped by our credit union system. Showing a commitment to the health and future of your communities can take several forms. And you've shown that over the decades with your big novelty checks, grants and scholarships to people and organizations that need it.
But maybe it's time to think about expanding that credit union vision to include the communities you serve that are lacking proper medical facilities. I know it might be a strange thing to consider, except when you think about your cooperative values, and if your CU has a true "concern for its community," then maybe this could be the perfect way to help out the members struggling in your service areas. I never thought we'd get to this level of community need, but here we are.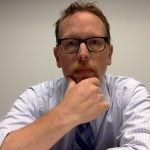 Michael Ogden is editor-in-chief for CU Times. He can be reached at mogden@cutimes.com.