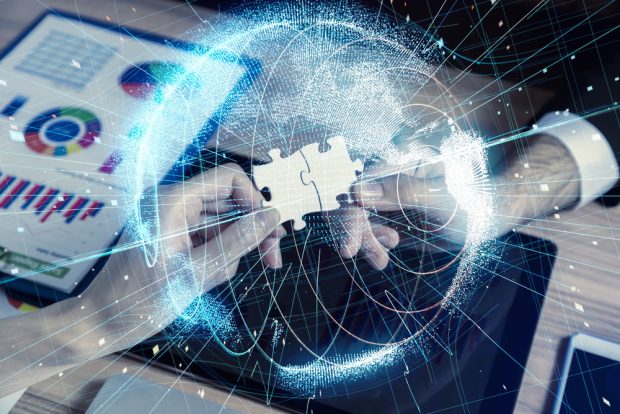 For the second time in less than three months — this time FIS and Worldpay — a merger joined two major financial technology companies. What possible effects will this have on the industry?
The deal: Jacksonville, Fla.-based FIS, a major financial services technology player, and UK-based Worldpay, a bigtime provider of international e-commerce and payments, announced entering into a definitive merger agreement. According to the official announcement, the combined company will have approximately $12.3 billion pro forma 2018 annual revenue, anticipated $500 million of revenue synergies, $400 million of run-rate expense synergies and nearly $4.5 billion of free cash flow in three years.
FIS, which serves more than 20,000 clients in over 130 countries; and Worldpay, which processes over 40 billion transactions annually, supporting more than 300 payment types across more than 120 currencies; have complementary solutions and services encompassing financial institution issuer services, network and merchant services.
The announcement said this blending expands FIS' capabilities by enhancing its acquiring and payment offerings and increasing Worldpay's distribution footprint, and accelerating its entry into new geographies. The combined company expects to offer enterprise banking, payments, capital markets and global e-commerce capabilities.
"Scale matters in our rapidly changing industry," Gary Norcross, chairman, president and chief executive officer, financial institutions, stated in the merger announcement. "Upon closing later this year, our two powerhouse organizations will combine forces to offer a customer-driven combination of scale, global presence and the industry's broadest range of global financial solutions. As a combined organization, we will bring the most modern solutions targeted at the highest growth markets. The long-term value we will create for clients and for shareholders will set the bar in our industry and will create a range of new career opportunities for our employees."
"At Worldpay, our focus has always been on delivering more value to our clients and partners and making decisions that achieve our growth and performance objectives. Combining with FIS helps us accelerate the achievement of that, now benefitting from new scale and capabilities that will truly differentiate the company globally," Charles Drucker, executive chairman and chief executive officer, Worldpay, said.
Upon closing, the combined company's board of directors will consist of 12 members, seven from FIS' board and five from Worldpay's board. Norcross will remain as FIS board chairman and president/CEO. Drucker, will serve as the board's executive vice chairman. The combined company will retain the FIS name and stay headquartered in Jacksonville.
In January, Brookfield, Wis.-based financial services powerhouse Fiserv, Inc. and New York-based payment processor First Data Corp announced a definitive merger under which Fiserv will acquire First Data in a $22 billion deal.
As he did in the aftermath of the Fiserv-First Data merger announcement, Myron Schwarcz, EVP at Memphis, Tenn.-based Strategic Resource Management, a full-service consulting firm for credit unions and banks, provided some observations about the potential effects of the new FIS/Worldpay entity.
"Given the timing, it's a response to the Fiserv/First Data acquisition. Certainly FIS' primary competitor significantly beefed up payment processing capabilities, also merchant processing business, which by all accounts has higher margins and is growing faster," Schwarcz said. "They do debit card and credit card processing for community banks and credit unions, but that's a relatively small component of the overall Worldpay offering and revenue."
The merger also gives FIS the ability to cross sell a viable merchant processing solution to its financial institution clients, and banking solutions to Worldpay's merchant processing clients, Schwarcz noted.
Schwarcz suggested the merger reduces the number of available debit/credit processing options for credit unions and community banks, which means decelerating margin compression in this space. But, consolidation of Worldpay's and FIS debit networks may also slow the debit interchange decline, which is good for financial institutions, but not beneficial to merchants.
Another aspect of the deal to monitor is Worldpay's position as a reseller of First Data, which Fiserv purchased, Schwarcz said. "The obvious answer to that is that credit processing business currently resold is going to be moved to an FIS platform."
Schwarcz indicated a major concern for SRM's credit union and bank clients is helping them understand possible impending effects to them such as possible conversion to a new payment system.
Is the fintech industry heading toward more marriages of convenience or perhaps even a shotgun wedding?
Schwarcz speculated about future mergers and acquisition agreements and noted there aren't many standalone processors left in the market. "I would imagine by the end of this year there's going to be at least one more major fintech M&A announcement."
Although admitted to not knowing or hearing about any marriage plans or rumors, Schwarcz mentioned TSYS, which has been diversifying its business for years; as well as Visa and MasterCard, which both offer debit processing capabilities but don't have issuer or credit card processing capabilities. "TSYS is predominantly a credit card processor but they also have a growing merchant processing business and I'd imagine they're going to look to diversify their offerings and potentially merge with a major core banking or online banking provider."