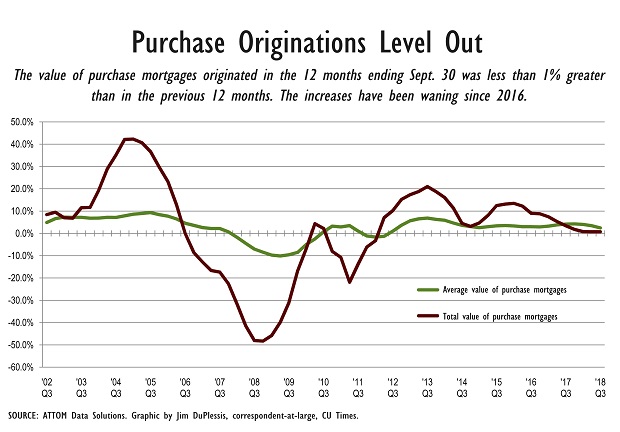 The value of purchase originations fell in the third quarter—only the second time the value of new mortgages was lower than a year ago since June 2011, according to a report released Thursday by a Los Angeles-area property analytics company.
ATTOM Data Solutions' U.S. Residential Property Mortgage Origination Report showed U.S. lenders of all types generated $248.4 billion in purchase originations in the three months that ended Sept. 30, down 1.8% from 2017′s third quarter. The previous drop was from 2016′s third quarter to 2017′s third quarter when originations fell 1.9% to $252.9 billion.
The number of purchase originations has fallen each quarter on a year-ago basis since the second quarter of 2017. In the third quarter they fell 2.4% to 892,760.
The value of total residential real estate originations, including home equity lines of credit, fell nearly 11% to $483.6 billion in the third quarter.
For credit unions, real estate originations in the third quarter grew 3.4% to $47.2 billion, including commercial loans backed by real estate. Non-real estate originations grew 9.6% to $86 billion, according to NCUA data.
Meanwhile, ATTOM found another large drop in mortgage originations for refinances among U.S. lenders. They fell 20.8% to $175.1 billion in the third quarter, the lowest volume since lenders generated $172.6 billion in the first quarter of 2014.
The trends show that while rising interest rates affect refinancing more directly, their impact on purchases are substantial as well, said Daren Blomquist, senior vice president at ATTOM Data Solutions.
Higher interest rates compound the cost of buying in a market where the overall economy is strong, housing inventory is tight and home prices have been slow to respond to the weakening in demand.
"It's really driven by the affordability crunch we're in," Blomquist said. "Home prices have gone up so quickly in the last five years."
But the third quarter marked a change. The average purchase mortgage in the third quarter was $278,277, up 0.7% from a year earlier — the smallest increase since home prices were falling in 2012.
Residential purchase mortgage originations decreased from a year ago in 121 of the 225 metro areas ATTOM surveyed, including New York (-6%), Dallas-Fort Worth (-5%), Chicago (-14%), Phoenix (-2%) and Los Angeles (-14%). Among metro areas with increases were Atlanta (+12%), Houston (+3%), Miami (+2%), Tampa-St. Petersburg (+3%) and Nashville (+1%).
Rising down payments are also weighing on mortgages.
The median down payment on single family homes and condos purchased with financing in the third quarter rose 16% to $20,250— the highest level in ATTOM's dataset, which goes back to 2000.
The median down payment was 7.6% of the median home sales price in the third quarter, up from 6.8% in 2017's third quarter and reaching the highest percentage since the fourth quarter of 2003.