There's a consistent struggle between what people want and finding and creating a revenue stream to support that want. Credit unions, restaurants, social media companies and plenty of others have wrestled with this problem. I believe this is the one true downside to our smartphone culture.
We appear to be quick to pull the trigger on new digital ideas without the long-term business plan and strategy needed to maintain that idea of a consumer's want.
Back in 2007 and 2008, several really smart people saw opportunities to fill those emerging consumer wants and a way to make some solid money in the process. Behind the excitement of digital development and culture-building, we've actually been watching the same failures happening over and over – think MapQuest, GoPro, Twitter and Vine. Two of those organizations are gone and two are on the financial edge of collapse.
One of the first apps downloaded on my first iPhone in 2008 was Urbanspoon. It was an app that gave restaurant recommendations based on location – think Yelp, but without customer reviews. Even though a giant company from India bought Urbanspoon, they didn't have a longer vision beyond the original idea. Poof. Gone. And there are many, many examples of companies like that who had a great idea, landed some big investors and hired loads of people, and then the bottom fell out and they've disappeared completely.
Nearly 10 years into the iPhone, we are still watching similar things happening, but with a twist.
Besides Urbanspoon, Gmail and a cool light saber app, the other new discovery on my iPhone was SoundCloud.
SoundCloud is a digital audio platform that began as a place for anyone to upload their music, podcasts and audiobooks to share with an audience. Over the years, I've launched four podcast series through the platform. It's always been an incredibly easy platform to use to share your audio creations. Incidentally, SoundCloud has created an underground culture for rap and hip-hop artists, who do not have a record deal, to share their new tracks and hopefully be discovered by a record producer or even by artists such as Drake and Miley Cyrus. For many teens and millennials, Apple Music and Spotify is too mainstream while SoundCloud provides that culture of rough, new talent where people can say, "I totally knew them when…." For those of us on the older side of things, think of that punk rock kid in high school who snagged the first two albums by Debbie Harry and Chris Stein. And then once Parallel Lines was released and "Call Me" and "Rapture" became huge hits, that kid called them "sell outs" and would say things like, "Man, I remember how awesome they were before this disco crap." That is what SoundCloud has been for an entire generation of new music artists and their fans. SoundCloud created a culture based on a need, which was based on not much of an idea of a revenue stream. And now that culture is on the edge of disappearing.
Since its inception, SoundCloud has mainly relied on investors to keep it running. The advertising revenue stream has never really worked. Its subscription model appeals mainly to those who upload a lot of music or podcasts. But listeners, they appear to stick with the free version and tolerate the ads.
As for the artists, it's become a glimmer of hope for a better life and when it was recently announced that SoundCloud had roughly 80 days of financing left, the underground music world was stunned. For now, the company has secured two new investors to keep it running in the short-term. SoundCloud has laid off nearly half of its employees and is still looking at a bleak future. I think of it as a business cart in front of the business case horse.
It's gone so far down a road without a clear path of earning and retaining a revenue stream that it is mainly relying on the gift of wealthy investors to keep things running. Like so many others, the people who started the business just had an idea and a mentality of, "Let's just do it, find some investors and we'll figure the rest of it out later."
Sometimes that works. Yes, Facebook, I'm looking at you. Fine.
Mostly though, according to government data, it fails.
My point here is that we would all love to have such a rabid culture behind who we are as an industry. Some may argue that we already do. I'd characterize that the culture exists in small pockets of underground fans here and there who are starting community workspaces and cooperative breweries. But, I'd argue to stop trying to chase a fan base of millennials, Gen Y and the underground if you don't have a business case and at least a fairly confident revenue stream.
Credit unions are who they are because of a mission and a set of values laid out decades ago. Be that. Be the solid financial parent and partner that the communities are looking for. Build on those qualities with your digital and smartphone footprint.
You might not be a "want" in your communities. But your communities and members definitely need you to be there. Fill that need and pull back on trying to be something people want. My grandfather would say to me, "Stop running and chasing." Simple advice that didn't register until I was older, because I was the underground.
As we know, the underground culture typically doesn't have the cash or the resources to sustain your business, but at least they stand for something – until they don't and they move on.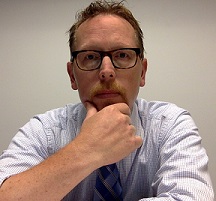 Michael Ogden is executive editor for CU Times. He can be reached at mogden@cutimes.com.