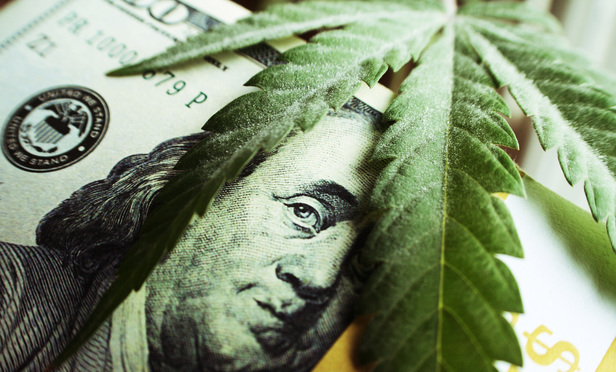 A federal appellate panel this week breathed some life into a Denver-based credit union's efforts to open its doors, one day, to marijuana-related businesses.
The U.S. Court of Appeals for the Tenth Circuit vacated a Colorado district court's January 2016 ruling that had tossed out Fourth Corner Credit Union's lawsuit—with prejudice—challenging the Federal Reserve Bank's denial of its request for a master account. Colorado chartered Fourth Corner Credit Union, but the federal account is needed for basic banking transactions.
Fourth Corner's directors had hoped to launch a credit union to service Colorado's legalized recreational marijuana industry. Major banks shun marijuana transactions because federal law still criminalizes the drug. U.S. District Judge R. Brooke Jackson of the District of Colorado said federal approval of Fourth Corner's account would facilitate criminal activity.
The Tenth Circuit's dense, 64-page decision, based on three distinct opinions from the panel judges, vacated the district court's order. The case will return to Jackson with instructions to dismiss it without prejudice.
As Colorado wrestles with how to bank marijuana businesses, California's treasurer has convened a working group to tackle the same issue before the Golden State launches commercial marijuana permitting on Jan. 1. Treasurer John Chiang has asked the panel of bankers, marijuana representatives and government officials to recommend solutions by the end of the year.
We asked three attorneys for their thoughts on the Colorado appeals court opinion. Here are some of their takeaways.
The credit union's lawsuit is alive. For now.
"When you start with the district court opinion we appealed, we were dead in the water," said Mark Mason, Fourth Corner's attorney. "We would have loved to have seen 'reverse' but 'vacate' is good too."
The plan now is for Fourth Corner to re-apply to the Federal Reserve Bank of Kansas City for a master account. If the application is denied, expect to see the credit union back in court, said Mason, of The Mason Law Firm in Mount Pleasant, South Carolina.
Mason said he takes encouragement from Tenth Circuit Judge Robert Bacharach's assertion that the district court erred by not taking credit union leaders at their word that they would abide by federal law.
"Had one other judge joined in that opinion we'd be doing backflips off the balcony," Mason said.
That's the glass-half-full analysis, said Robert McVay of Harris Bricken in Seattle.
"The negative answer is that none of the judges indicated any sympathy for Fourth Corner's original argument that the fed must give them a master account," McVay said.
Fourth Corner's complaint, in its current form, will not legitimize banking for marijuana businesses.
During litigation, Fourth Corner submitted an amended business plan that said it would only serve supporters of legalized cannabis, not commercial operations, until the federal government removes restrictions on marijuana-related banking.
"It takes years to start a financial institution," Mason said. "What we're trying to do is just get set up so on day one [of federal banking approval] they're ready to operate."
The lawsuit's focus is now on whether the Federal Reserve has the legal discretion to reject a properly chartered bank's application for a master account.
"That's good news if you are Fourth Corner and want to open and provide banking services at all, but it doesn't help marijuana businesses," McVay, the Seattle lawyer, said. "If they explicitly state that they won't provide banking services until doing so is legal, they won't be entering that market for years, and they'll be going up against every other big bank out there. When it is legal, everyone will do it."
Stanley Jutkowitz, senior counsel at Seyfarth Shaw's Washington office, said the appellate ruling "is not a big deal" in terms of clarifying the state-federal conflict over marijuana banking.
"They [Fourth Corner] say they're going to serve people who support the legalization of marijuana. Well so what?" Jutkowitz said. "You could walk into a Bank of America and they might bank you for that. It's just another advocacy group."