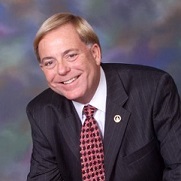 America's Credit Union Museum said Thursday its new research library will be named after retiring Cornerstone Credit Union League President/CEO Richard Ensweiler.
Stephanie Smith, executive director of America's Credit Union Museum and Michael L'Ecuyer, the museum's board chair, revealed the name of the building to thunderous applause from credit union executives who attended the Cornerstone Credit Union League Annual Meeting and Expo in Fort Worth, Texas.
The Richard L. "Dick" Ensweiler Research Library will be located in the to-be-constructed CUNA Research Center building adjacent to America's Credit Union Museum in Manchester, N.H.
The research library will house the exclusive physical and digital repository of U.S. credit union history. Credit union professionals, researchers and writers will have direct access to important documents and artifacts that record the growth, success and impact credit unions have had on the financial prosperity of everyday Americans over the last 100 years.
In addition to his numerous contributions to the credit union industry, Ensweiler served on the board of America's Credit Union Museum for more than a decade and was instrumental in championing the Museum's Legacy Capital Campaign.
"Dick and Judy Ensweiler are bigger-than-life credit union leaders who, over decades of service to the movement, worked tirelessly to ensure the credit union brand remains strong, that big and small have opportunities to thrive, and that the cooperative principles that spawned most credit unions in the 1930's continue alive and well today," Tony Budet, president/CEO of the $2.1 billion University Federal Credit Union in Austin, Texas, said.
Ensweiler will retire April 30 after more than 20 years of service at the Texas Credit Union League and the Cornerstone Credit Union League, which represents approximately 546 cooperatives in Texas, Arkansas and Oklahoma. The Cornerstone league has a 90% affiliation rate. Caroline Willard, former EVP of markets and strategy for CO-OP Financial Services in Rancho Cucamonga, Calif., was named Ensweiler's successor in January.
The museum is entering the final stretch of its $3.3 million Legacy Campaign, having raised more than $2.9 million. The campaign continues to accept donations. For more information, please visit acumuseum.org/legacy.
The campaign dollars will fund the new industry research center and research library, add additional exhibit space and provide renovations to the existing museum building. The research center will make credit union history more accessible while the additional exhibit space and upgraded conference facilities will allow credit union professionals, legislators and citizens to experience first-hand the unique role credit unions play in the financial marketplace.