Tech startups face many unexpected growing pains and challenges when integrating their technology with many credit unions' core systems. However, some industry professionals believe some of those obstacles inhibit innovation due to outdated infrastructure and old ways of thinking.
"One of the interesting things as a startup is you don't know what you don't know," Ben Morales, CEO of QCash Financial and chief technology and operations officer at the $2.5 billion, Olympia, Wash.-based Washington State Employees Credit Union. QCash is a wholly owned subsidiary of WSECU.
WSECU created QCash in 2004 to meet the short-term lending needs of members who were requesting large money orders to pay off payday lenders.
"We decided we could do something better that would leave more money in their pocket and move them upstream to more financial services," Morales recalled. QCash offers relationship-based underwriting to members without a credit check.
WSECU discovered that offering its members small-dollar and short-term lending options, at very competitive rates, provided a consistent revenue stream in return. WSECU's QCash program books more than 30,000 loans annually, maintains loan loss rates in the 6% to 8% range, provides financial education for members and generates an annual net income of $4 million.
When using QCash, which is also part of the financial think tank Filene Research Institute's Reaching Minority Households incubator, members can get funding in less than 60 seconds using a smartphone.
QCash recently launched with the $1.7 billion, Richland, Wash.-based Gesa Credit Union and is testing the product with the $2.8 billion San Antonio Credit Union and the $1.2 billion, Rye, N.Y.-based USALLIANCE Financial Federal Credit Union.
However, one of the unanticipated hurdles since QCash ventured out as a startup in 2015 is the resistance it's received. This resistance has made it more difficult for interested credit unions to implement this technology.
"You are kind of innocent walking out into this new world – how do we innovate, how do we partner with fintechs in trying to create solutions for credit unions?" Morales asked.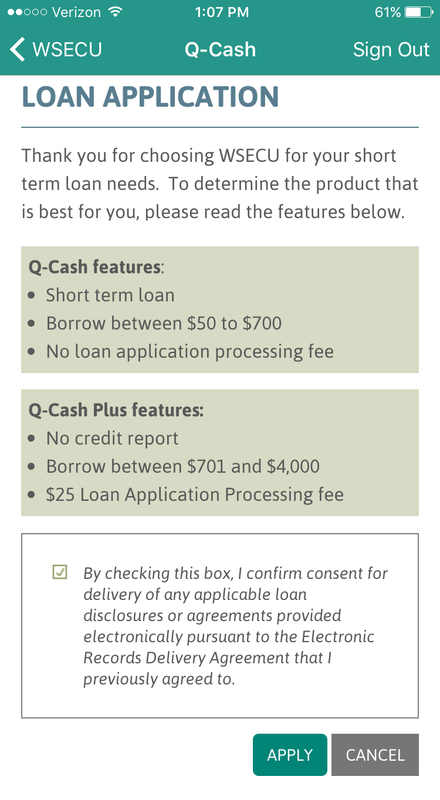 Morales claimed in order for credit unions to innovate, an ecosystem of players needs to recognize the value of staying relevant to members.
"In order to do that, we've got to try some things and we've got to take some risks," he said. "Everybody is trying to make this happen in different ways. But perhaps not the right people are making it happen. The thing I think about is how the core technology providers in the fintech space today are enabling their clients to take a risk."
Morales explained what limits credit unions is old infrastructure demanding compensation through licensing fees for trying out innovation. "If I've got to license every time for a test or a proof of concept for feedback, boy that's a barrier I can't afford as a financial institution."
Morales emphasized that although fintech firms and credit unions collaborating seems like a good first step, it isn't in some cases.
"Once you start digging in the weeds you discover the client has to pay a license fee for this transactional service and the vendor has to pay a fee to be connected to the core," he noted.
A framework for allowing credit unions to test and innovate without increasing their costs until the value achieved would help advance technology for members.
"No one is looking for a free lunch. All we're looking for is once we get market traction, then let's talk about what the fees will be," Morales said.
He suggested the credit union industry needs an enabling type of framework that will allow financial institutions to try some of this new technology.
He is not the only industry professional who views innovation this way.
"Core systems have locked out credit unions from being creative and adopting new tools on the front-end that interface with them," Lee Butke, president/CEO for the Columbus, Ohio-based, $3.7 billion Corporate One Federal Credit Union, said. "If a core is tying them to that interface engine, every new product or service has to have its own unique integration implementation activity."
Corporate One knows about pushback from its own development experience of member and mortgage acquisition solutions.
Keith Riddle, SVP and chief product management officer for Corporate One, explained, "Core providers have issued message sets in API form that credit unions can use to have third-party providers tie into. The challenge, in some cases, is that there can be some prohibitive integration costs for aligning to the message set core providers present. Some cores are more progressive in providing the message set than others. Some of the cores are more legacies and are more dated."
Butke claimed the APIs might be open, but attempting to create a singular interface comes at a cost for credit unions.
"Every darn time, the credit unions have to pay for it," Butke said.
To make matters worse, Butke added, the interface connects to data credit unions already own. Butke added there are concerns around how to interface the system with each vendor and installation the credit union works with.
"If we can work as credit unions to blow that paradigm up, we think that is really critical," Butke said. "Can you imagine how we can turn the credit union movement on its head by saying, 'This is our credit union's common set of APIs' in front of the core? Now we can say, 'Go develop, we'll invite you into our ecosystem.'"
In the particular use case QCash currently experiences, a credit union that is unsure of market acceptance might request a trial.
"Because we are such a new company we don't have a lot of history, so some of this is a leap of faith. So they are going into this with an entrepreneurial spirit," Morales noted.
Then the tech firm must connect to the core, and the specific transactions, in order to test it. The credit union may or may not have the capability to connect. Those that don't, must request access from the provider.
"So the credit union is presented with a fee for that transaction set and we then have to become a preferred vendor status and then pay a license fee for each client we bring on board," Morales said.
That is pretty common standard. The reality is credit unions that want to innovate have to spend a lot of money to do it.
"At the end of the day we don't want winners and losers – we all have to work together," Morales maintained.