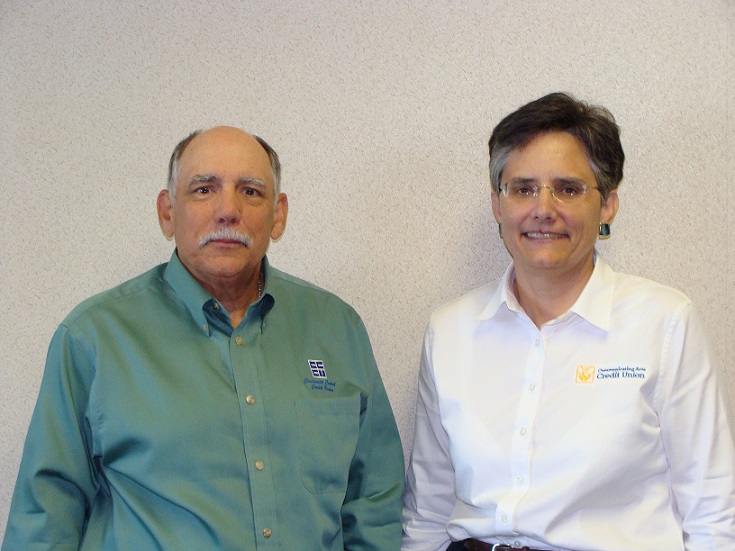 Not only are Bill and Catherine Herring president/CEOs of credit unions, their respective cooperatives are planning to merge with each other next April – and the brother-sister team is retiring on the same day in 2015.
A credit union merger is nothing unusual. But what is unusual and perhaps even unique is when the consolidating credit unions are led by a brother and sister who will be retiring from their CEO posts at the same time.
Catherine Herring, president/CEO of the $60.8 million Communicating Arts Credit Union, and her older brother Bill Herring, president/CEO of the $93.5 million Cincinnati Central Credit Union, both announced they plan to merge their Cincinnati-based cooperatives on April 1, 2015.
Cincinnati Central with nearly 16,000 members will be the surviving charter. Communicating Arts serves more than 5,800 members including employees at CU Times.
They probably had one of the best credit union role models any kid could have. Their mother, Louise McCarren-Herring, was one of the early leaders of the credit union movement who co-founded the Columbus-based Ohio Credit Union League. She is also credited with establishing 500 cooperatives including the two her children currently oversee.
The funny thing is the siblings said they never thought about pursuing credit union careers, even when helping their mother with work at cooperatives in their formative years.
Bill said he was planning to join the Peace Corp after he graduated from college in 1969 when his mom asked him to temporarily manage Cincinnati Central. His transitory assignment lasted for more than 40 decades.
When Catherine joined Communicating Arts 40 years ago, she never left and became its president/CEO in 1987.
"There are mixed feelings associated with this," Catherine said in an interview with CU Times. "When I extract myself from any of the emotions involved with it and look at the benefits for members, employees, and potential members, then clearly it is the right thing to do."
Bill's thoughts about the merger were practical as well.
"It all kind of came together and made a whole lot of sense," he said. "It will be good for the members and give the merged credit union a bigger base with more assets and it will be able to take advantage of the technology, which is becoming more and more expensive and more and more necessary."
Catherine began talking to her board of directors more than a year ago about the future of Communicating Arts, which was founded by her mother in February 1940 to provide financial services to individuals employed in the information media, arts and related professions.
Her mother also founded Cincinnati Central in 1937, which was originally chartered to serve "people not able to participate in the credit union benefit," according to the cooperative's website.
After many in-depth discussions and consulting with outside experts and trusted advisers, Catherine said the board decided the merger option made the most sense. Though she knew her brother was considering retirement as she was, and that he was grooming an executive to take over, it wasn't a foregone conclusion that Cincinnati Central would be the merger partner, Catherine noted.
Indeed, both credit unions have a long history of collaboration. In addition to sharing an office building since 1987, they formed a CUSO in 1999 that owns the technology systems both s use for online banking services and data processing. They also share a board room, an employee lounge and training facilities. These connections eventually led both credit unions to start discussing the possibility of consolidation.
"One of the things that excited my board about this opportunity was to create something new. In conversations with Cincinnati Central, they were open to the concept of developing a new brand, a different name and truly looking at this merger as a partnership of equals," Catherine explained.
She added, "When we realized this particularly unique opportunity was available, it made sense to explore it more deeply and ultimately both boards determined this was a good opportunity."
When Catherine and Bill retire next April, they said they will be retained as consultants for two years. Looking back at their 40-year careers, the brother-sister team is most proud of the positive impact their cooperatives have had on their members.
"I am very proud of the history of my mother and what she taught us," Bill reflected. "I'm also proud our credit union stayed true to the philosophical underpinnings of the credit union movement and tried to treat each member with dignity regardless of their economic status, and hopefully their membership with the credit union has enabled them to enhance the quality of their lives."
Catherine said there are a lot of measurements one can use such as assets, members, products and services.
"I've had a tremendous opportunity to work with many wonderful people – members, volunteers, co-workers, peers, professionals in our trade associations, business partners – and have learned so much from many of them. Ultimately, what is the most satisfying is seeing the positive impact our credit union has had on the lives of so many members, some of whom I worked with directly over the years, many indirectly."
Kathy Haas, chief operating officer for Cincinnati Central, will be the new president/CEO of the merged credit union.
"Haas is very capable and is ready to take over the reigns as CEO," Bill said. "She is well rooted in the credit union philosophy underpinnings and she can manage the assets and capital that will continue to make a significant impact on the lives of our members."
Both credit unions will be involved in developing a new name for the merged credit union and its new brand and respective board members will form a new board. In addition to keeping the credit unions' four branches open, Haas plans to offer mobile banking and to keep enhancing member services.
"Member services have always been very important to both Cincinnati Central and Community Arts, and that will continue to be the case," she said.