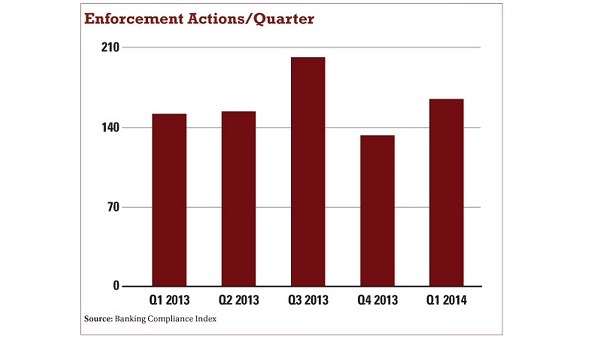 The number of enforcement actions taken by bank and credit union regulators increased to 165 during the first quarter of 2014, according to an April 10 webinar by financial technology firm Continuity Control. That figure is up from 134 enforcement actions taken during the previous quarter.
The average number of items rose to eight per enforcement action, up from seven in the previous quarter, the company said. The first quarter also saw the addition of 3,284 additional pages of regulatory requirements, down from 5,507 pages added during the fourth quarter.
"When it comes to enforcement actions, all things old are new again," said Pam Perdue, EVP of regulatory insight. "Issues involving the Bank Secrecy Act and safety and soundness dominated examiners' agendas."
Another company's measure similarly found activities heating during the first quarter.
That would be Exam Watch, a financial peer-to-peer information sharing program on the cbanc Network, a free and secure online source of problem-solving content authored by banking and credit union professionals. Of the 142 banks and nine credit unions reporting during first quarter, 28% raised concerns about increased regulator scrutiny of their boards of directors, according to Matt Schriner, cbanc Network's managing editor.
Board training and the thoroughness of board meeting minutes were top areas of concern. Board involvement in key credit union issues, including compliance matters, also drew examiners' attention, Schriner said. He encouraged webinar participants not to underestimate regulator concerns in these areas.
"Make sure all employees and board members receive annual training," said Schriner, paraphrasing one Exam Watch entry. "Examiners want to see that training reflected in appropriate detail in board meeting minutes."
Compliance discussions at board meetings also are gaining importance for examiners, Schriner said. Those discussions also need to be reflected in the meeting's minutes in appropriate detail.
"Make sure that committee meeting minutes are equally detailed and flow up to the board meeting minutes," he added.
Most regulatory action issues during first quarter were relatively minor compared to those from previous year. The one exception, not surprisingly, was guidance on Bank Secrecy Act expectations regarding marijuana-related businesses issued by the Financial Crimes Enforcement Network.
A Justice Department memo outlined requirements for the 20 states and District of Columbia that have some form of legal marijuana usage. "This is a pretty heavy-lifting area," said Schriner.
Compliance with Basel III Tier 2 Capital and Subordinated Debt requirements also generated discussion during the webinar. Perdue also briefly discussed the NCUA's guidance for federal credit unions that want to use derivatives to manage interest rate risk, reminding institutions of their purpose in the agency's eyes.
"Derivatives are available to credit unions only for this limited use and should not be considered for any other form of activity," she said.