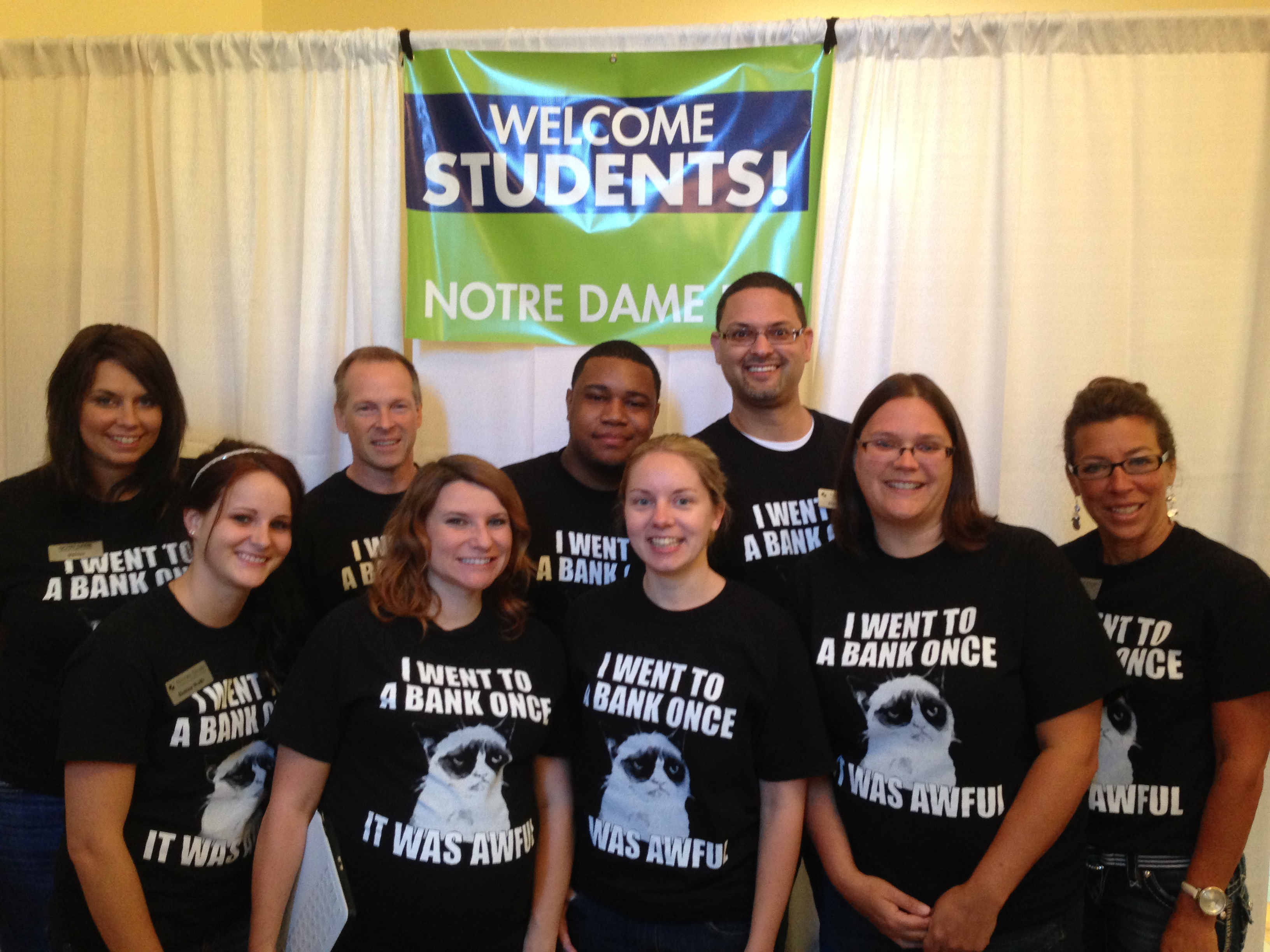 Grumpy Cat, the Internet's grumpiest cat, apparently dislikes banks, or so the T-shirt bearing his likeness states, thanks to the sense of humor at the $460 million Notre Dame Federal Credit Union in Indiana.
(Click on the image at left to see larger version.)
The annual Student Return Week kicked off Aug. 21 with incoming University of Notre Dame students opening memberships at the credit union's on-campus and near-campus locations. In preparation for the influx of thousands of Gen Ys, Notre Dame FCU designed this year's T-shirts around popular Internet memes in an effort to appeal to the younger audience.
Poking fun at big banks, the Grumpy Cat meme's message reads, "I went to a bank once. It was awful."
The back of the T-shirt reads, "Be grumpy no more." Notre Dame FCU's T-shirt design touches on the unbank approach to conducting finances, and opens the door for Notre Dame FCU employees to educate younger members about the difference between credit unions and banks, the credit union said.
Notre Dame FCU employees were spotted wearing the popular Grumpy Cat Internet meme during Friday's Student Return activities, the credit union said. According to his Facebook page, Grumpy Cat's real name is Tardar Sauce and his grumpy face is splashed all over the Internet and in commercials.
"In many instances, the credit union finds that Notre Dame FCU is the first financial institution to which incoming students are exposed," said Deidre Davis, chief of marketing at the 56,000-member South Bend institution.
"We recognize what a wonderful opportunity it is for Notre Dame FCU employees to relate to this younger generation each year during Student Return Week, and our T-shirts were designed to portray Notre Dame FCU as both approachable and relatable," Davis said.
"If anything, the T-shirt designs act as an icebreaker and help start conversations about the credit union's personalized service and vast array of products," she said.