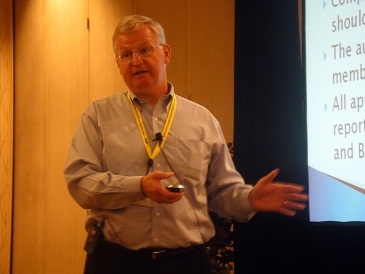 When it comes to business lending, a properly structured loan is critical to credit risk management fundamentals.
Vin Vieten, NCUA member business loan program officer, shared that insight with more than 150 attendees at CU Business Group's National Business Services Conference in Portland, Ore. on Wednesday.
Vieten stressed the need for credit unions to follow established best practices from both the banking and credit union industries. These are the standards the NCUA is expecting as they go into credit union exams, he said.
The need for proper levels of loan authority and a well-defined, consistent risk rating system were also discussed. Vieten also emphasized the importance of a thorough credit presentation memo that clearly lays out the case for approving the loan. The NCUA expects the loan to be properly analyzed, and for the analysis to be clearly documented in the credit presentation, he added.
Independent appraisal reviews and third-party MBL portfolio reviews are other best practices that the NCUA is expecting credit unions to have in place, according to Vieten. This independent verification of key processes and procedures is a key component of proper risk management.
Vieten also discussed MBL participations, which he said have many positive attributes but also increase the complexity of the transaction. A key area of focus for complete risk management in participations is performing proper due diligence on the lead lender, according to Vieten.
CUBG said it now serves 397 credit unions in 43 states.