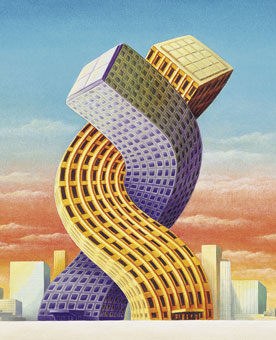 Like many of its peers, iQ Credit Union had grown overwhelmed in keeping up with the rapid pace and myriad regulatory changes.
For some time, the $452 million credit union explored ways to manage expenses associated with compliance, said Roger Michaelis, president/CEO of the cooperative in Vancouver, Wash.
"We're trying to control operating costs just like everybody else," Michaelis said. "We were struggling with how to continue to respond to noninterest income activity and stay in compliance without exposing the credit union to a bunch of outside risk."
When more than a dozen Washington state credit unions got together in 2010 to research the viability of leveraging shared resources to meet the industry's growing compliance needs, iQ CU was among them.
Those talks, which included more research and analysis on what potential services and products were top priority, led to the recent creation of Northwest CU Collaboration, a new regulatory compliance CUSO.
The new entity was formed by the $1.1 billion Gesa Credit Union in Richland, iQ Credit Union, the $346 million Salal Credit Union in Seattle and the $1.7 billion Washington State Employees Credit Union in Olympia.
The first general areas of focus for the CUSO may include compliance training for staff, compliance reviews for marketing materials, legal reviews, vendor reviews and compliance audits, according to the credit unions. In addition, the partners said they foresee the potential for other joint services beyond compliance and other credit unions eventually may be offered opportunities to use the CUSO's services. Representatives from each of the four owners will serve on a board of managers.
While Northwest CU Collaboration is currently operating, it is scheduled to start offering services by the third quarter.
When Mark Allen was overseeing the first mortgage unit at WSECU for about five years, he recalled the bombardment of new regulations. Allen is WSECU senior vice president of mortgage and investments and CEO of One Washington Financial, one of the credit union's CUSOs. In 2010, WSECU, along with many others in the industry, were in the midst of what Allen described as a regulatory storm.
"With Dodd-Frank, we needed to think about doing things differently to keep our future costs down," Allen said.
To get the CUSO concept going, seven credit unions initially committed to the idea, Allen said. After a second meeting, a consultant was hired, along with CUSO legal guru Guy Messick, an attorney with Messer & Lauer PC, to explore the feasibility. Eventually, the four current CUSO owners moved forward by contributing seed money to get Northwest CU Collaboration up and running.
That initial period of feedback from Washington credit unions helped to shape what the CUSO would offer. Allen said they heard from smaller credit unions with staffers that were limited in what they could do in the area of compliance control given their multiple roles. The consistent theme was everyone needed help and were looking for solutions, he pointed out.
Michaelis from iQ CU wondered if the initial capital outlay in the CUSO would pay off. Indeed, Allen said the three credit unions that dropped out of creating Northwest CU Collaboration were reluctant to go to their boards to ask for capital to help fund the CUSO.
"One of the things we struggled with was having to add an operational expense. But this as a way to invest in our future," Michaelis said. "Compliance is a large expense. We do our best, but if we make a mistake, the penalties are so severe."
In addition to hiring more staff to stay on top of compliance and using the services of an attorney to read and write disclosures, Michaelis said the costs grew.
"None of these things were producing income," he pointed out. "The Dodd-Frank bill swept everyone in the same corner."
To oversee Northwest CU Collaboration, Terri Salinas was hired as the CUSO's director. She previously worked as corporate counsel at the $10 billion Boeing Employees Credit Union in Tukwila, Wash., and vice president of risk management at Gesa CU. Salinas will be responsible for creating the business plan and structure for the new CUSO.
While the CUSO will focus primarily on regulatory compliance, Allen said preliminary talks have taken place about adding services beyond that space, mostly in the back office.
"The general feeling now is let's figure out how to do this part well first," Allen said. "We're all faced with things like fee income pressure, loan demand–we all have the same issues to grapple with."
That bond is set to play a part in how the CUSO might expand.
Allen recalled how some had concerns about how a collaboration model would work given the number of people involved. Others wondered if there would be job eliminations.
"There was a lot of mutual concern and rightfully so," Allen said. "We spent a fair amount of time addressing it. We see this as another career opportunity for some."
At press time, Northwest CU Collaboration's board of managers was scheduled to meet to review the business plan. Salinas said there will be discussions on whether additional staff is needed. A search for office space is also underway.
"This was a two-year process with a number of credit unions talking about how to deal with future costs," Allen said " It wasn't easy to get through but regulatory compliance is an important area to focus on in a collaborative way."