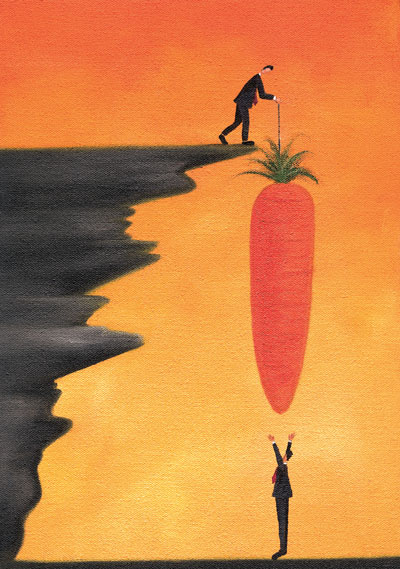 While the degree of optimism varies, a sampling of perspectives from business lending CUSOs suggests an economic upturn may be underway.
One sign of how widespread member business lending has become can be seen from figures provided by the Regional CUSO Alliance, which is a collaboration of business lending CUSOs. The group represents 16 regional business lending CUSOs involving 330 credit unions and an aggregate loan portfolio of $2.5 billion.Perhaps the most bullish outlook comes from Community Business Lenders in Des Moines, Iowa. Open to all Iowa credit unions, the CUSO is owned by the Iowa Credit Union League and the $335 million Community Choice Credit Union in Johnston and $139 million Members 1st Community Credit Union in Marshalltown.
Mark Kilian, CBL CEO, said there has been a resurgence of activity. For one thing, a number of banks slammed the door on business lending, forcing small business owners to find new relationships in order to maintain capital.
"We've certainly been the beneficiary of that action," Kilian observed. "We had a strong year in 2011. A lot of things are probably driving that. We've had an opportunity to be introduced to new client relationships."
Kilian recalled a case of a new home builder that CBL has worked with on several transactions.
"[They've] certainly seen a surge in our part of the world in terms of building homes of the right size at the right price," Kilian said. "We've been able to support their efforts, and I think we have an opportunity to grow with them."
While the majority of loans have been in commercial real estate, the list of businesses on CBL's books has been fairly diverse. There's the story of the entrepreneur who wanted to move closer to his family and start a pizza franchise operation. Kilian said commercial banks weren't eager to grant him a loan, but his mother is a credit union member and he turned to CBL.
"He had an excellent business plan, a great work ethic, and he's now expanded his business," Kilian said.
It continues to be an environment filled with many individuals expressing disgust with banks by shifting their accounts to credit unions, CUSO leaders have noticed. Even when business owners need capital, the first priority for most lenders is to assure the future of the business. Their choice of a financial institution can be very pragmatic.
With that in mind, what concerns do member business lenders still face?
"Most experts suggest the economy is at least stabilizing, but there still remains a great deal of uncertainty," Kilian said. "There are also new regulatory requirements, whether involving credit cards or business lending."
He certainly thinks a CUSO can help credit unions deal with member business lending by offering expertise an individual credit union might not be able to afford. Before going in, credit unions should look at the surrounding community and membership to determine what is actually needed in the market. Regulatory requirements should also be examined.
Having the resources to appropriately service business loans as well as hiring experienced, knowledgeable professionals are also critical starting points, Kilian said. Relationships with business lending CUSOs, attorneys and accountants can prove valuable, he added.
Credit unions should also consider ongoing education such as attending business lending school offered by CUNA. Kilian said CBL's training includes a six-week business lending class and one-day seminars on specific topics. Other business CUSOs sponsor similar programs, he noted.
Northeast Member Business Services in Keene, N.H., has partner credit unions in California and Texas, with the majority based in New England.
"Lending is definitely higher, and it was particularly good in the fourth quarter of 2011," said Rick Slater, NMBS chief operating officer. "December was our best month ever. We closed 85 loans for $13.25 million, and we had 79 applications for $12.5 million. There's usually a 30 to 60 day lag between applications and closing."
What's behind the good news?
"The economy here did take a step backward, but we didn't experience the same issues folks in the sand states suffered," Slater said. "With a couple exceptions, unemployment here didn't hit the big numbers it did in other parts of the country. We also found our credit unions are getting better at finding business lending opportunities out in the marketplace."
Those opportunities have come from a diverse range of enterprises, Slater said. Both service and manufacturing concerns are seeing much more activity. Companies that have shied away from borrowing have pretty much gone through their reserves and are seeking fresh capital.
In addition, personal credit scores seem to be improving, Slater noticed. There's a definite downtrend in the percentage of available credit being used. In small business lending, personal credit and the performance of a business loan are very closely tied, he pointed out.
With all the advantages that appear to be in favor of credit union business lending programs, challenges still remain.
"Business lending is very difficult," Slater acknowledged. "Credit unions have historically focused on serving their members and haven't really been active in finding new members. To be successful in small business lending there has to be a sales culture. You have to get the word out that you do small business lending, and give the potential borrower a list of services and products offered."
Slater said even though some credit unions have been in business lending for ten years or more, it's still a challenge to convey the need to get a sales culture in place. Meanwhile, commercial loans can command higher rates. So if a credit union puts effort into business lending, he said it can enjoy a significant return, but warned applications won't just flow in the door.
The Cypress Group, a business lending CUSO in Orlando, serves one of those sand states Slater referred to so President Kevin Dion is somewhat cautious.
The years 2010 and 2011 were pretty sluggish, he recalled. Dion said there are two aspects to business lending – origination, with a sales force soliciting deals, then the ability to get applications through the system.
On the origination phase, Dixon said there is indeed a strong sales force at work. But lending volume has only plodded along, although it did pick up at the end of 2011. Whether the late uptick was sparked by a better origination effort, or reflects an improved economy, it's hard to tell, he said.
As for that surge continuing in 2012, it's hard to make that prediction, Dixon observed.
"I would imagine businesses have to see a pickup in demand before they go ahead and leverage themselves or borrow money to actually expand."
Credit unions that want to attract new business members, should take a look at what they have to offer, Dixon suggested.
"Businesses tend to be rational on how they approach their decision. They utilize a lot more services than the average consumer would," he said. "If a credit union hasn't built a strong infrastructure, with depository products and those kinds of things, businesses probably aren't going to switch their entire relationship from the larger regional banks or the national banks."
One regulatory challenge, Dixon said, occurred last summer when NCUA expressed a desire to better regulate CUSOs. They want to make sure CUSOs have better tools and understand the industry they're serving. There are also new loan participation proposals to ensure credit unions recognize the inherent risks of large business loans.
Dixon advises credit unions interested in boosting business lending to start with their existing members. Let members know that business loans are offered, he said, adding they may own a business, or have friends and relatives who do.
Credit unions "can offer a more personal relationship, sometimes better pricing, sometimes a more favorable loan structure – so we may end up getting part of the relationship."