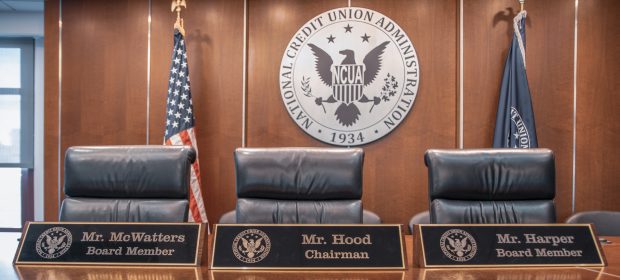 On Thursday during the virtual NCUA board meeting, members discussed the coronavirus, Minority Depository Institutions and the future of virtual exams.
Concerning COVID-19, Chairman Rodney Hood announced that the NCUA would not begin its phased-in reopening plans for all NCUA offices on July 6 as was previously hoped. Hood and board members Todd Harper and J. Mark McWatters together agreed that now was not the right time to even attempt to come back into the office and resume business as usual, especially with the spike in virus cases and hospitalizations reported in Texas and Arizona – where the NCUA has regional offices.
Hood explained that he was not sure when normal operations would resume and McWatters stated, "We need to follow the science and not reopen the agency" until it is safe to do so. McWatters said he expects that might not be possible until after the fall and winter months.
Fewer MDIs Seen as Assets Grow
During the meeting, Program Manager of the Office of Credit Union Resources and Expansion Pamela Williams presented the 2019 Annual Report to Congress on Preserving Minority Depository Institutions.
According to the report, approximately 10% of all federally insured credit unions (514) were designated as Minority Depository Institutions (MDIs) with assets totaling $40.5 billion and served almost four million credit union members. In 2018, according to Williams, there were 529 MDIs in the U.S. with nearly $3.9 billion in assets.
Texas, California, Louisiana and New York had the most MDI credit unions, according to the report.
Williams pointed out that 20 MDIs merged into other credit unions in 2019, which resulted in MDIs representing 14% of all mergers approved last year.
Virtual Examinations Examined
Heather Phelps, credit union examiner with the NCUA, asked board members to approve publishing a notice in the Federal Register for a 60-day comment period concerning the design and implementation of a virtual examination process.
According to Phelps, the virtual examination pilot program, which took place before COVID-19, resulted in examiners spending 30% less time onsite at credit unions. Phelps noted that her assessment of the virtual exam process changed as the coronavirus spread throughout the country. "The results based off my preliminary review of off-site work that has been performed by the examiners has surpassed my initial assumption for the virtual exam program," she said.
McWatters stated that the exam modernization issue has been discussed and supported by multiple NCUA administrations. "I enthusiastically welcome the Chair's support for these long-standing bipartisan initiatives."
Harper also agreed as he said, "Now is the time to move forward with a virtual examination program."
The motion to open a 60-day comment period for the virtual examination program passed by a vote of 3-0.