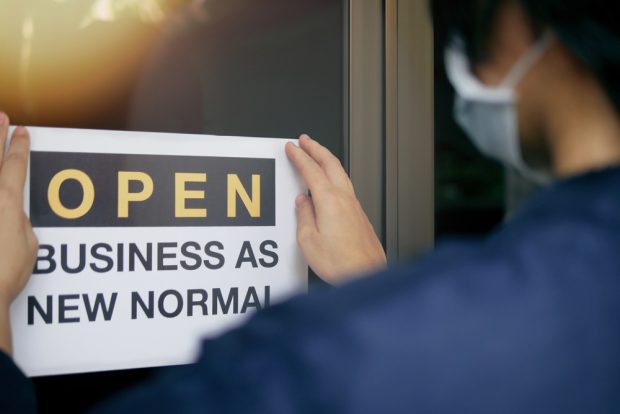 Using new glass face shields, social distancing markers and other protective measures against the spread of COVID-19, American Heritage Credit Union has re-opened its more than 35 branches located across the Philadelphia metropolitan area.
The credit union noted in a news release that the re-openings, which happened on Saturday, June 6, came as Philadelphia, the surrounding Bucks and Montgomery Counties in Pennsylvania, and nearby Camden County in southern New Jersey, eased their COVID-19 stay-at-home orders.
The "staff and I are excited to see our members coming through the branch doors once again," Bruce K. Foulke, the credit union's president/CEO, said in the news release. Foulke added that "while our mission of serving local communities did not rest during the [coronavirus] pandemic's restrictive phases, resuming branch activity allows us to greet and serve our members face-to-face and help them accomplish their goals in a more personal way."
American Heritage, a $3 billion, member-owned financial cooperative that serves more than 200,000 members and more than 800,000 workplace partners, took a series of measures in the branches to try and create a safe-from-virus-spread environment.
The credit union said in the release that it followed Pennsylvania and New Jersey, as well as federal Center for Disease Control guidelines, by requiring its members and associates inside of branches to wear protective face coverings or medical masks.
American Heritage also said that new glass face shields and social distancing markers have been installed inside the branches' lobbies, and it said that branch occupancy "may be monitored" to avoid crowding.
In addition, it noted that "increased sanitization" and cleaning procedures will continue.
The credit union's news release also said that credit union members who've been ill or had a fever recently "are [being] asked to refrain" from coming into any branch building.
Coin-counting machines have been put back into operation, it said.
The credit union added that its members "are encouraged to continue using online services and remote account access technologies, as well as the drive-thru, to limit contact with staff and other members."
"Where available, use of Personal Automated Teller Machines allow members to experience personalized two-way video interaction to conduct quick transactions without forgoing American Heritage's signature member service," the American Heritage news release also said.
"For other transactions, including IRA services, Certificates, account opening and business services, American Heritage requests that members schedule an appointment," the credit union noted.