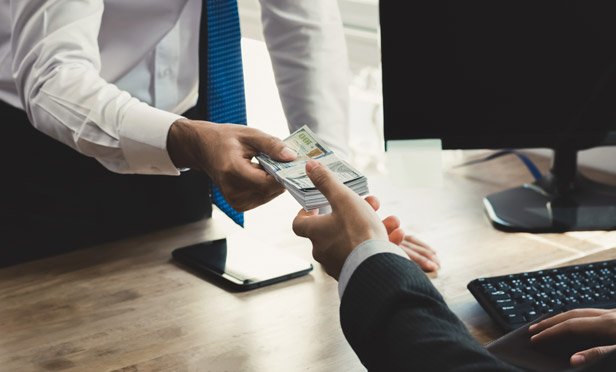 Some 56% of business executives said their companies had sought relief funds through the Paycheck Protection Program, according to a just-released survey by the American Institute of CPAs.
During a Wednesday hearing held by the Senate Small Business and Entrepreneurship Committee, Treasury Secretary Steven Mnuchin said that the PPP has issued 4.5 million loans amounting to more than $510 billion, what he called an "incredible effort."
Mnuchin said more guidance will be issued soon regarding the Paycheck Protection Program Flexibility Act, which was signed into law on June 5 and is designed to provide businesses with more time and flexibility to keep their employees on the payroll.
"In less than two months, the PPP is supporting the employment of approximately 50 million workers and more than 75% of the small-business payroll in all 50 states," Mnuchin told the senators.
AICPA's Economic Outlook Survey polled chief executive officers, chief financial officers, controllers and other certified public accountants in U.S. companies who hold executive and senior management accounting roles.
Two-thirds of the companies the executives represent are privately owned entities, with the rest a mix of public companies and nonprofits, according to AICPA.
The survey found that 8% of those surveyed took the Small Business Administration's Economic Injury Disaster Loan (EIDL), while 35% of survey respondents said they hadn't applied for government relief.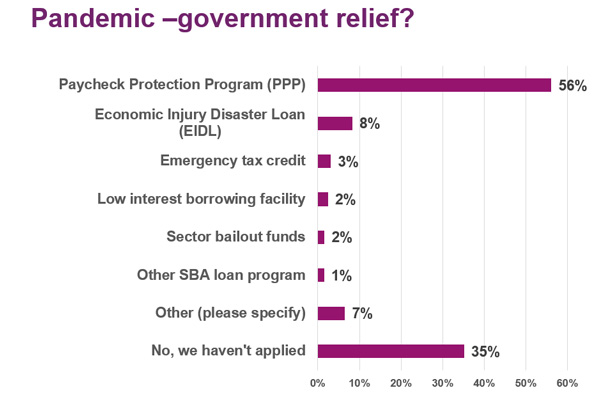 "The overwhelming majority — 92% — of executives in our survey said their companies had been impacted negatively by the pandemic," said Ash Noah, a managing director for the Association of International Certified Professional Accountants. "The survey results give a snapshot of how they've coped so far, with many relying on a mix of relief programs, cost containment and business continuity strategies."
Sixty-one percent of survey respondents said their companies had kept their employment levels and pay structure intact, presumably in part due to the widespread use of PPP and related programs, the survey said. Others had furloughed or laid off employees or instituted pay cuts, among other tactics.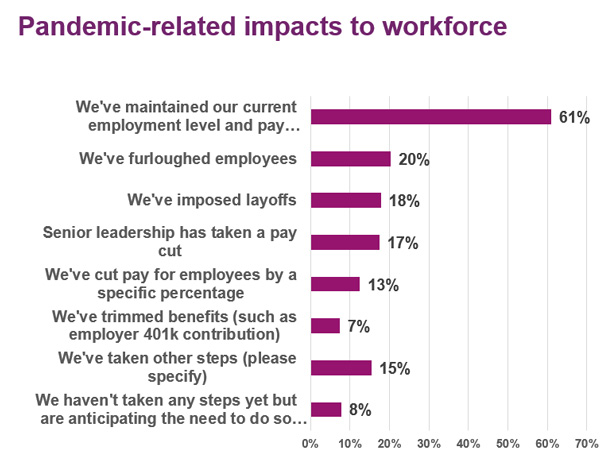 Citing recent data from the U.S. Chamber of Commerce, Mnuchin told the senators that "79% of small businesses are at least partially open, with half of the businesses that remain closed planning to reopen very soon."
The personal savings rate for the month of April, released on May 29, "was a record high 33% of disposable income, indicating that people have built up cash reserves during the pandemic and will be in a position to resume consumer activity as businesses open," Mnuchin said.
Likewise, he continued, "investors and businesses have increased cash positions, with data indicating that over $1 trillion has flowed into money-market mutual funds since February."
The PPP "has kept tens of millions of employees connected to their jobs," Mnuchin added. "The National Federation of Independent Business found that 73% of its members surveyed rehired or retained workers due to the PPP."
Next Stimulus
When asked during the hearing what should be included in the next stimulus bill, Mnuchin stated that "we're going to need money to encourage businesses to rehire people, especially in areas like travel, leisure, restaurants," and "we're going to need to fix unemployment."
The souped-up unemployment benefits under the CARES Act expire at the end of July.
Mnuchin added: "Hopefully we won't need a CARES 5 and 6," but there's "still significant damage in parts of the economy."
Greg Valliere, chief U.S. policy strategist at AGF Investments, said in his Friday morning email briefing that "a $1 trillion-plus deal is likely to win enactment by early August" for two reasons,
"First, the pandemic obviously isn't over yet," Valliere said. "New cases are spiking (in part because of more testing), and may stay at high levels because social distancing was ignored in recent protests. People are still tentative about going to restaurants, malls or on trips (the battered airline stocks are a barometer)."
A V-shaped recovery, he continued, "never seemed very likely, and now a fresh wave of virus anxiety has Fed Chairman Jerome Powell worried about the considerable downside risks to the economy and the markets. His somber tone this week was warranted."
The Fed, Valliere said, "will lend extensively, but Powell insists that Congress also has to act. And Treasury Secretary Steven Mnuchin has been increasingly adamant this week that another stimulus package is virtually mandatory as state and local layoffs loom this summer."
Second, Valliere said, is "the three key factions in the stimulus debate all have skin in the game, and will push for their agendas."
For House Speaker Nancy Pelosi and the Democrats, "massive aid to state and local governments is the top priority. They'll win at least $500 billion, but that may not be enough," Valliere said.
For Senate Majority Leader Mitch McConnell and the Republicans, "some type of liability protection for companies is a 'must pass.' The details aren't clear — will there be a federal fund to aid companies that are sued? — but there will be some type of lawsuit protection in the final measure."
President Donald Trump's focus "will be on tax cuts — a lower payroll tax rate isn't out of the question, as well as a tax bonus for people who return to work, and a possible tax credit for entertainment and dining out," Valliere added.
All of the players, he added, "are willing to consider another cash payment to individuals, perhaps not as generous as the initial $1,200 checks." A sticking point, however, will be unemployment benefits.