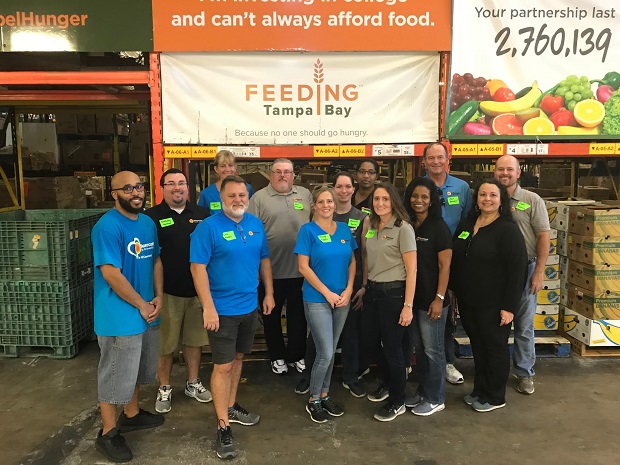 Several Southern credit union organizations have been stepping up with big initiatives to help people, businesses and charities affected by the coronavirus crisis.
Florida's largest credit union, the $10.5 billion Suncoast Credit Union in Tampa, Fla., said it will contribute 500,000 meals to the Feeding Tampa Bay food bank. The donation will be matched by the Rays Baseball Foundation and Rowdies Soccer Fund, for a total of one million meals to be offered to those affected by COVID-19.
This donation will help Feeding Tampa Bay to fill the gaps in household meals created by the national emergency. This includes children who are out of school with little to no access to school meals or after-school meals, seniors and others who are at greater risk and cannot safely secure their food needs. These meals will also be given to families who are experiencing higher expenses and unemployment or lower wages because of the coronavirus crisis.
"Food and shelter are basic human needs and we want to do what we can to support those affected by COVID-19. This initiative of Feeding Tampa Bay demonstrates how we can harness the best in all of us, even in the hardest of times," Suncoast President/CEO Kevin Johnson said. "We have to address these serious needs with a sense of urgency and we are grateful we can help."
Corporate America Credit Union in Irondale, Ala., said last week that it committed $100,000 toward a Southeastern Credit Union Foundation initiative that will support communities across the Southeast.
With that donation, Corporate America became the premier donor of SECUF's #CreditUnionsCareChallenge initiative. Other industry donors included CUNA Mutual Group in Madison, Wis.
The foundation invited the League of Southeastern Credit Unions and its member credit unions in Alabama, Florida and Georgia to spend at least $25 per credit union employee at local businesses while also following social distancing guidelines.
Corporate America's and CUNA Mutual's donations will help SECUF match every dollar donated by member credit unions of up to $25 per employee. Credit unions will then choose a local organization or charity to receive these matched funds as a donation.
"Corporate America believes strongly in the credit union mission of people helping people – and right now real people in our communities are in need of very real help," Corporate America CEO Pete Pritts said. "We hope our donation can provide a measure of hope and comfort for those who are struggling during this unprecedented pandemic."
SECUF launched the #CreditUnionsCareChallenge initiative to answer the challenge from the $615 million First Commerce Credit Union's #LocalStrong campaign that began earlier this year. The Tallahassee-based cooperative's campaign distributed more than $4,000 among 150 team members to spend at local businesses. Several other Florida credit unions also participated in this campaign.
"We were inspired by their campaign and the intent behind it, and we felt compelled to do our part to broaden the initiative across the Southeast," said Tina Williams, who is chair of SECUF and president/CEO of the $86.4 million Mobile Educators Credit Union in Mobile, Ala. "Essentially, we're shining a spotlight on two areas of need during this crisis – small businesses and local charities that are being inundated with requests for assistance. We're eager to show how the Southeast is #CUStrong."