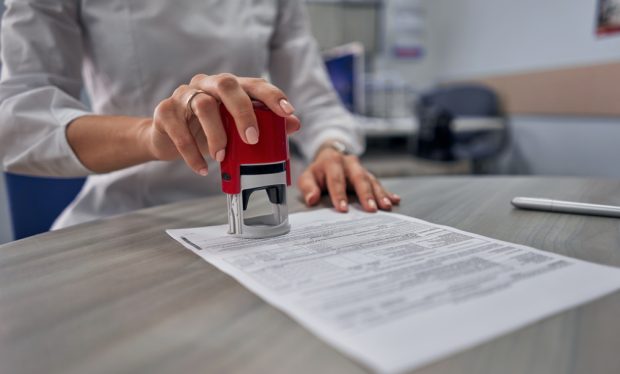 Several Iowa credit unions have been shifting to remote online notarizations to close mortgage loans after the state declared a public health emergency on March 17. The state's declaration suspended the requirement for a notary to be physically present for signing real estate loan documents.
One of those credit unions, the Cedar Rapids-based Collins Community Credit Union, began using the technology last week. Collins Community has $1.2 billion in assets and about 87,000 members.
The West Des Moines-based CUSO LenderClose is providing the technology, called remote online notarization (RON). It uses audio-video technology to share documents electronically, confirm identity and conduct the signing and notary process in a face-to-face, virtual environment. Remote online notarization is not the same as eNotary, which still requires borrowers and notaries to be in the same room to validate the borrower's ID in person, according to LenderClose.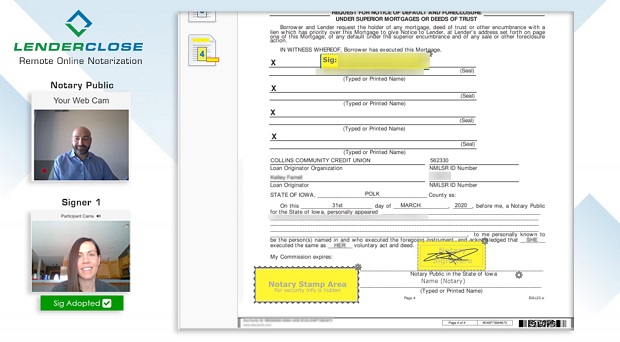 "We're extremely proud to be a part of this historic moment, especially because of the innovation's ability to help borrowers during a really critical time of unprecedented financial and lifestyle hardships," Collins Community President/CEO Stefanie Rupert said. "Our members expect us to live out our values, one of which is that our members matter more than their money. It's our intention to always consider the person behind the transaction, and that is precisely what LenderClose helped us achieve today. We look forward to scaling this out to the rest of our borrower membership over the next several weeks and months."
The Dubuque, Iowa-based Dupaco Community Credit Union has also adopted the technology. That credit union has $1.9 billion in assets and about 125,000 members.
"In the short-term, remote online notarizations minimize person-to-person interactions to help protect both our members and our employees. In the future, this technology will allow us to more effectively support and serve our members, regardless of where they live, when they're ready to close on a loan," COO Matt Dodds said.
LenderClose said it expected three other Iowa credit unions to begin using remote online notarization right away: The Johnston-based Community Choice Credit Union, Des Moines-based Serve Credit Union and West Des Moines-based Financial Plus Credit Union.
Community Choice has $550 million in assets and about 48,500 members; Serve has $75 million in assets and about 5,200 members; and Financial Plus has $172 million in assets and about 12,600 members.
Iowa Credit Union League President/CEO Murray Williams praised the move and noted that the league advocated for remote notarization in 2019.
"While we knew at the time that some Iowans had barriers to visiting their credit union in person, none of us could have imagined the current situation. We thank Governor Kim Reynolds for the swift action that enables credit unions to harness the power of technology to help Iowans buy homes and refinance mortgages in a manner that is safe during this difficult time," Williams said.
The company said it is also making the technology available to credit unions and community banks in states that allow remote online notarization. According to the Mortgage Bankers Association, 23 states have enacted RON legislation and more than 20 state legislatures introduced over 30 RON bills in 2019.