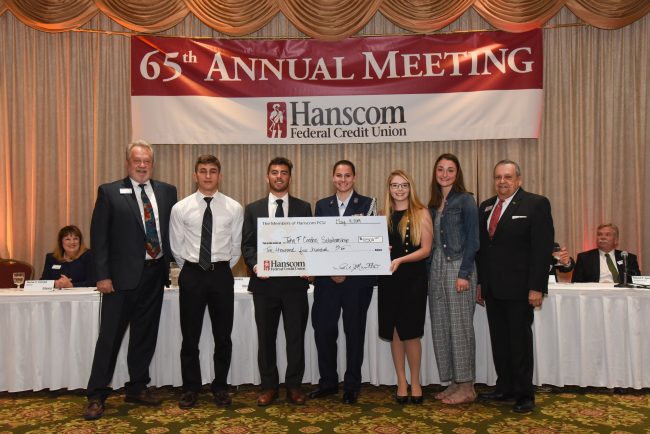 From left to right, David Pronchick, director at the $1.3 billion Hanscom Federal Credit Union in Hanscom Air Force Base, Mass., and John F. Condon Scholarship winners Nicholas Karalis, David Arango, Cadet Chief Master Sgt. Kathryn Brown, Amanda Donahue, Julia Taylor and Paul Marotta, chairman of the board for Hanscom, attend the credit union's annual meeting on May 4. Five credit union members and two students from local U.S. Air Force Junior ROTC units each received $1,500 to assist with college expenses. The John F. Condon Scholarship is named after a former Hanscom board member who made a significant contribution to the credit union's success during his 26 years of volunteerism. The award is based on academic record, extracurricular activities and an essay.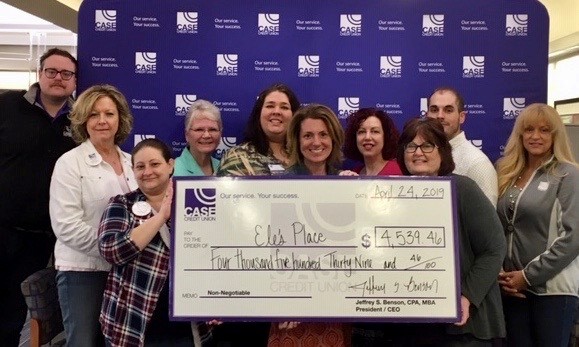 Staff members from the $293 million CASE Credit Union in Lansing, Mich., present a $4,500 check donation to Ele's Place on April 24 during the credit union's all-staff meeting. Ele's Place is a local healing center that creates awareness of and support for grieving children, teens and their families. From January through March, CASE employees had the opportunity to raise funds for Ele's Place through special events and activities, including bake sales, participating in "Dress Down for Charity" days, partnering with AmazonSmile and more.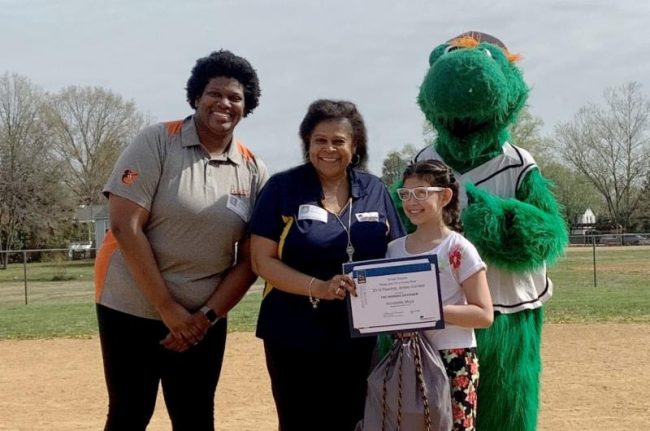 From left to right, Kelsey Carter from the Bowie Baysox, Vic Samuels from the $1 billion Educational Systems Federal Credit Union in Greedbelt, Md., and Baysox mascot Louie present an award to Annabella Mejia from Belvedere Elementary School for her award-winning jersey design. Every year, Educational Systems FCU sponsors Bowie Baysox's "Read and Hit a Home Run" program, which reaches more than 200 schools and impacts over 35,000 elementary and middle school students. Through the "Read and Hit a Home Run" program, students who read four books outside the required reading curriculum receive two free tickets to a Baysox Reading Night Game where they are recognized for their achievement. This year also marked the inaugural Baysox jersey design contest. The winning design created by Annabella Mejia, a fourth grader at Belvedere Elementary School in Anne Arundel County, is now featured on a limited edition jersey that's being worn by the players. After the game on May 18, the jerseys will be auctioned with the proceeds benefitting Belvedere Elementary School.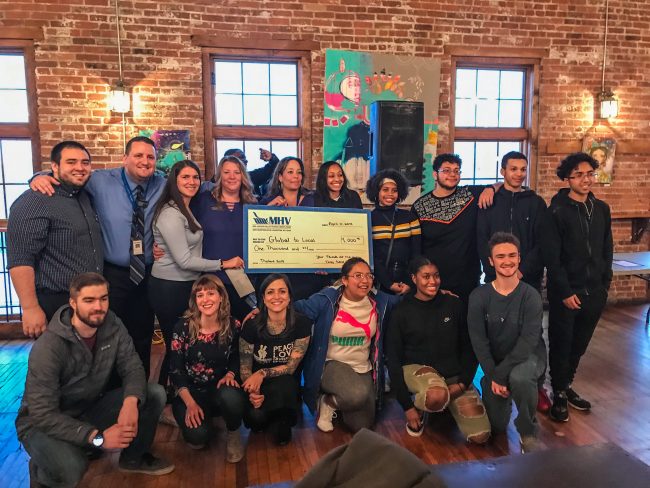 Staff members from the $1 billion Mid-Hudson Valley Federal Credit Union in Kingston, N.Y., present a $1,000 donation to members of Global to Local. The donation was raised entirely by credit union employees through their Jeans for Charity program. The Global to Local program provides students from PTECH Excelsior Academy at Newburgh Free Academy an opportunity to travel internationally to complete volunteer work. The students then return to Newburgh, N.Y., and implement the skills they learned during their time abroad to identify and complete a community impact project. This year, the students will be traveling to Thailand to work with Burmese refugees.
A Waltham High School student visits a financial information exhibit booth sponsored by the $904 million, Waltham, Mass.-based RTN Federal Credit Union during Waltham High School's 9th Annual Health and Wellness Fair on May 3. The event gave students an opportunity to get information on health and wellness resources available in the community, and learn about healthy lifestyle options from local businesses and non-profits. Close to 1,500 students attended the event throughout the course of the day. RTN staff spoke to students about the importance of understanding how to manage money and the benefits of a credit union. Staff distributed financial educational materials on topics such as how to make a budget, money management skills, how to keep your identity safe and online security, along with workforce development information including job opportunities at RTN.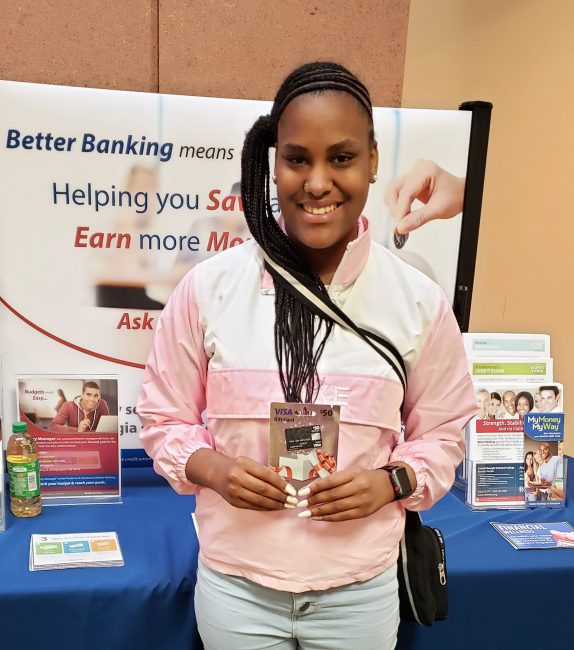 A student from Central Georgia Technical College shows off her $50 gift card during a financial literacy event sponsored by the $2.6 billion Robins Financial Credit Union in Warner Robins, Ga. The credit union partnered with Central Georgia Technical College to bring awareness to financial literacy in honor of financial literacy month. The event offered classes to help students learn healthy financial habits and how to use that knowledge for a lifetime of financial well-being. Class topics included credit score basics, income essentials and student loan education.
Please send your Community news items to Tahira Hayes at thayes@cutimes.com.